'Vampire Diaries' Star Nina Dobrev Posts Topless Photo To Support Obamacare; 10 Other Celebrity Twitter Pictures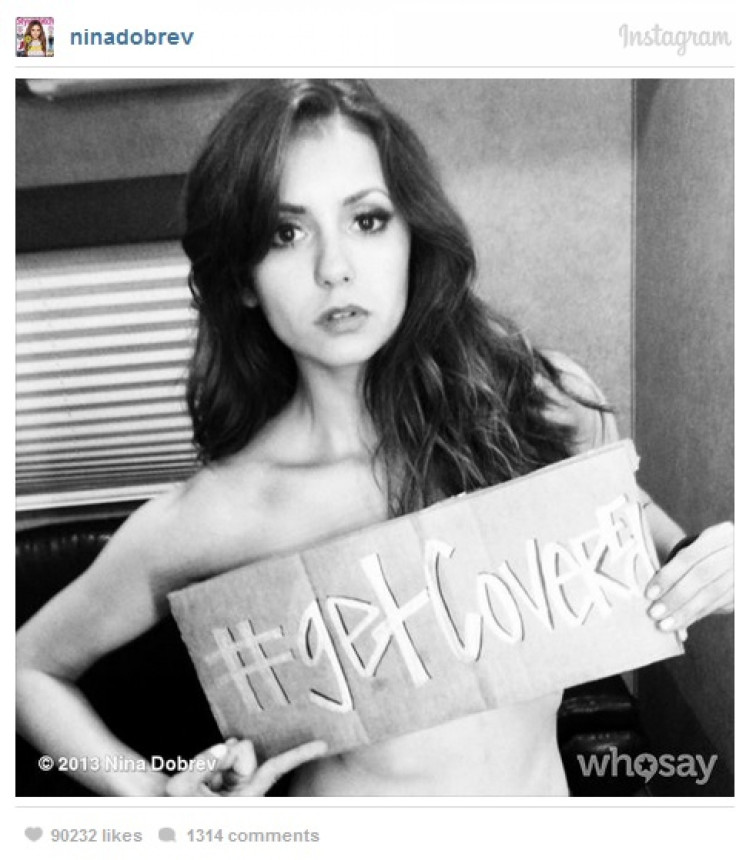 Nina Dobrev, of "The Vampire Diaries," showed off a lot of skin on Thursday, Oct. 3. For starters the 24-year-old's hit CW show returned for its fifth season, bringing with it a sexy bathtub scene with her on-screen beau (and former off-screen), Ian Somerhalder. But what has fans talking this morning is the topless photo that the actress posted on her Instagram account.
In the photo, Dobrev puts on her best pout while covering her bare chest with a sign that says, "#GetCovered." The "Vampire Diaries" starlet included a caption to explain her reason for going topless:
"I'm Canadian. We have healthcare for all. If you don't have insurance go to [https://www.healthcare.gov/] and #GetCovered, Because w/o it, you're naked."
The Patient Protection and Affordable Care Act (unofficially called Obamacare) was signed into law in 2010 and aims to "cut health care costs and to provide affordable health insurance to all Americans." The new law will help provide better health insurance to those who are already insured, while providing for those who currently can't afford it. According to Obamacarefacts.com, "Most Americans will have to have health insurance by January 1, 2014 or pay a fee on their year-end taxes."
Dobrev isn't the first celebrity to show her support for Obamacare; however she's the first one to get a little risqué. Check out #GetCovered photos that celebrities have been posting on Twitter below:
© Copyright IBTimes 2023. All rights reserved.