Pope Paul VI Beatified As Pope Francis Concludes This Year's Synod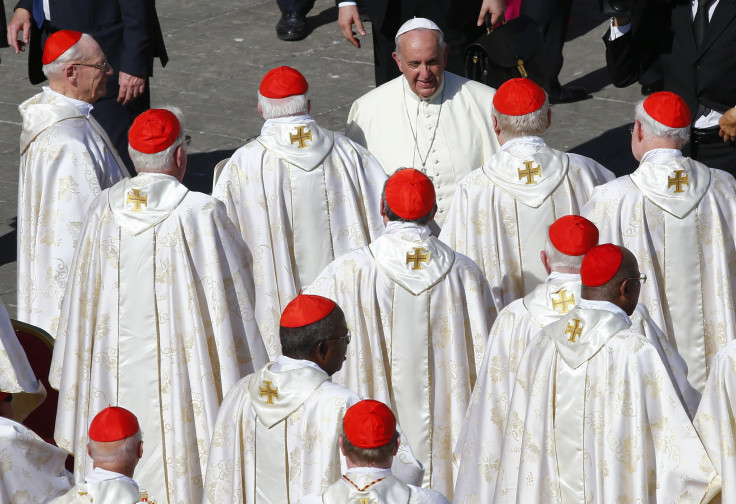 Pope Francis beatified Pope Paul VI Sunday, the Vatican reported. Beatification is the third of four milestones on the road to sainthood in the Roman Catholic Church. The action concluded the two-week synod called by the pope to discuss the church's position on moral issues, such as unmarried couples cohabiting and whether or not gay Catholics should be welcomed into the church. Pope Emeritus Benedict XVI was in attendance.
In 1963, Pope Paul VI was elected to succeed Pope John XXIII, as the Associated Press said. During his 15 years as pope, he implemented reforms of the Second Vatican Council, or Vatican II. These reforms included accepting local languages, as opposed to Latin, in the celebration of Mass and encouraging the church to connect with people of different faiths. His 1968 encyclical Humanae Vitae solidified the church's stance opposing artificial insemination.
Pope Francis beatified Pope Paul VI based on two conditions: a relic, which was a blood-stained vest, and a miracle, which was the birth of a healthy newborn after the mother prayed to a photo of Pope Paul VI. The mother previously was advised by doctors to have the child aborted because of health concerns, CNN reported.
Pope Francis' beatification of Pope Paul VI -- who is often called the "forgotten" or "misunderstood" pope because he, like John Paul I, was positioned between the "good pope," John XXIII, and the popular "globetrotter," John Paul II -- makes it the third such recognition of a 20th century pope in recent years. In April, Pope Francis canonized Pope St. John Paul II and Pope St. John XXIII. Pope Francis must recognize a second miracle for Pope Paul VI to be canonized similarly.
An estimated 70,000 people attended Mass Sunday, according to the Vatican. This synod ended without a consensus on some divisive issues, but the matters will be taken up again at a meeting of bishops next year. In his homily Sunday, Pope Francis said: "God is not afraid of new things. That is why he is continually surprising us, opening our hearts and guiding us in unexpected ways."
© Copyright IBTimes 2023. All rights reserved.
FOLLOW MORE IBT NEWS ON THE BELOW CHANNELS