Catholic Pope Francis Talks Sex, Marriage, Divorce At Vatican Synod Meeting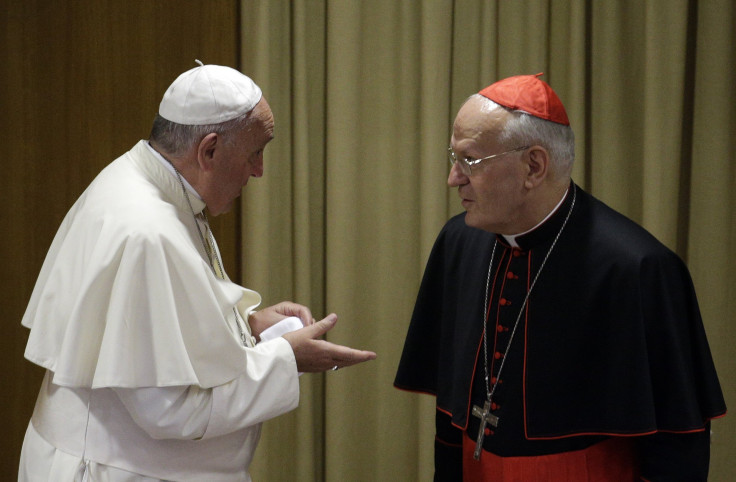 Pope Francis and other church leaders from around the world have gathered at the Vatican in Rome to talk about sex. The rare two-week gathering is designed to encourage frank talk on marriage, divorce and homosexuality ahead of any potential changes on the church's stance on modern relationships.
The roughly 250 bishops taking part in the debates, known as a synod, must "talk clearly," Francis said. "No one should say that we cannot say this or that because we are going to think like this... We must say everything, and be free to say everything that we feel," he said.
The Rev. Tom Rosica, a Vatican spokesman, said some church leaders have advocated for a "new language" to invite newcomers to the faith and explain its teachings. "Language such as 'living in sin,' 'intrinsically disordered' or 'contraceptive mentality' are not necessarily words that invite people to draw closer to Christ and the church," he said, citing one intervention. The Vatican's main document on sex, the 1968 encyclical Humanae Vitae, outlines. the church's opposition to artificial contraception.
Francis has adopted a more progressive approach than his predecessors, including marrying couples who were already living together, baptizing children of unmarried couples and reportedly allowing a woman in Argentina who is married to a divorced man to receive communion.
The religious leaders heard about the benefits of romance and sex from a Catholic couple on the first day of the synod on Monday. Ron and Mavis Pirola, parents of four from Sydney, Australia, said sex has helped keep them married for 55 years, according to the Associated Press. "The little things we did for each other, the telephone calls and love notes, the way we planned our day around each other and the things we shared were outward expressions of our longing to be intimate with each other," the couple said in a joint statement to the closed meeting. "Gradually we came to see that the only feature that distinguishes our sacramental relationship from that of any other good Christ-centered relationship is sexual intimacy, and that marriage is a sexual sacrament with its fullest expression in sexual intercourse."
Of 30 million married Catholics in the United States, 4.5 million are divorced and remarried without an annulment, according to Georgetown University's Center for Applied Research in the Apostolate. "The procedures for the annulment of marriage must be looked into," the Pope said in May. "The faith with which a person enters marriage must also be examined, and we also need to make it clear that the divorced are not excommunicated. So often they are treated as though they have been excommunicated."
© Copyright IBTimes 2023. All rights reserved.