Venmo And March Madness Bets: Company Says You Shouldn't Wager On NCAA Tournament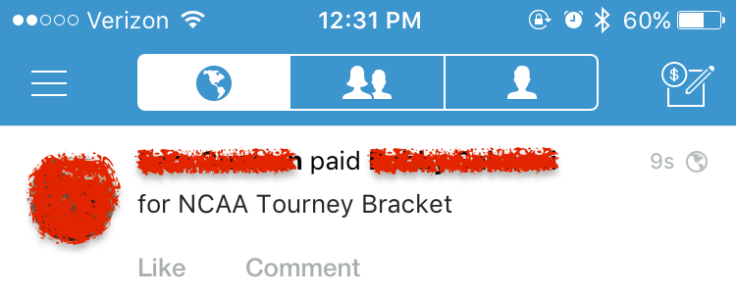 If you've been using Venmo to bet on March Madness games, as the crowds of basketball fans might yell after a nasty foul: you can't do that… or at least you're not suppose to.
The peer-to-peer payment app prohibits the use of the app in connection with betting or gambling in its terms and user agreement. "If there is ever a situation where evidence of gambling activity is brought to our attention, Venmo works quickly to take appropriate action," a spokesman for Venmo told Quartz.

Yet, the number of public payments that have taken place on the app since the start of the tournament have drastically increased, according to Quartz. An analysis of transactions mentioning basketball showed that in the days leading up to the first tip-off, roughly ten percent of all transactions were labeled with something basketball related.
Venmo is owned by PayPal and strictly operates in the US. It allows users to pay peers straight from a bank account or using a credit card and if users choose, they can make those payments public. The payment amount is hidden, but scrolling through the app's feed, you can see who is paying who and what they've labeled the payment as.
So Quartz analyzed public payments and looked for March Madness related terms like the basketball emoji, and the words and phrases "madness," "basketball" and " ncaa." They found more than 250,000 transactions that fell under this criteria within the time between the team announcements and tip-off. On Thursday, just before the games began, transactions with the relevant terms were up to nearly 15,000 per hour, and the Quartz analysis only looked at public transactions, there may be more transactions happening on the app that are private.
While March Madness pools with your friends or co-workers are most likely illegal, they're not really the top priority for most law enforcement officials, according to the National Law Review. The American Gaming Association estimated Monday that more than $10.4 billion dollars will be wagered this year on March Madness alone, legally and illegally.
Some people on Twitter completely threw caution to the wind and even tweeted about using Venmo for gambling.
© Copyright IBTimes 2023. All rights reserved.
FOLLOW MORE IBT NEWS ON THE BELOW CHANNELS