Venus Williams At Fault In Florida Car Crash That Killed 78-Year-Old Man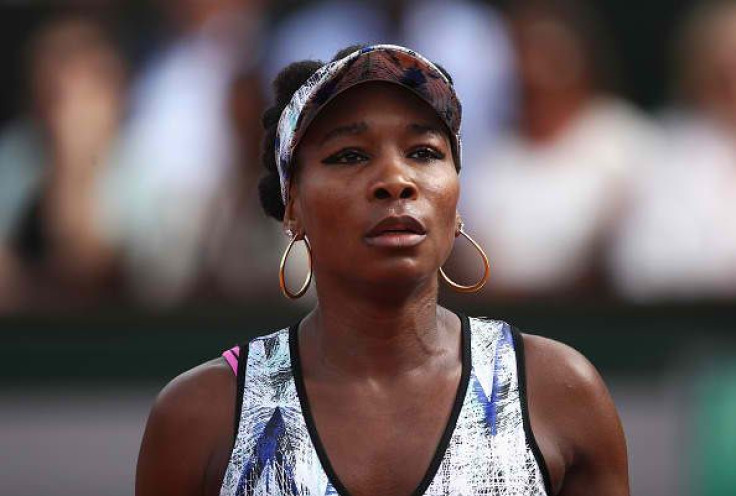 Venus Williams has been found to be at fault in a car accident that led to the death of a 78-year-old man.
On June 9, the tennis player was driving northbound when she crashed into another car approaching an intersection westbound in Palm Beach Gardens, Florida. The investigation into the crash concluded that Williams was at fault, based on the police report that recently surfaced. The other driver, Linda Barson, has explained that there had been no time to stop as she T-boned Williams' SUV. "[Venus] is at fault for violating the right of way of [the other driver]," the police report obtained by TMZ claimed.
The report added that there was no evidence that Williams had been under the influence of drugs or alcohol, nor was she distracted by an electronic device while driving.
READ: Serena Williams clarified her sister Venus Williams' statement about the gender of her child
Not everyone walked away from the accident unscathed. The crash reportedly had resulted to the driver's husband, Jerome Barson, suffering from head trauma. He was taken to a hospital and was placed in ICU following the accident, but unfortunately, he did not survive for long and died after two weeks. Barson's wife, who was also rushed to the hospital with her husband at the time, suffered broken bones and other injuries, but fortunately, she survived.
In a new statement released via her attorney, Williams shared her side of the story, calling the incident an "unfortunate accident." Williams apparently told investigators that she entered the six-lane intersection on a green light. She was forced to stop midpoint because of the traffic ahead of her. She did not see Barson's car crossing the lane.
"Ms. Williams entered the intersection on a green light," her legal counsel Malcolm Cunningham said. "The police report estimates that Ms. Williams was traveling at 5 mph when Mrs. Barson crashed into her. Authorities did not issue Ms. Williams with any citations or traffic violations. This is an unfortunate accident and Venus expresses her deepest condolences to the family who lost a loved one."
The seven-time Grand Slam champion is currently the no. 10 seed at Wimbledon. Five of her seven championship titles were from the said competition. The tournament began on Monday, ESPN reported.
In other news, Williams previously sparked rumors that her younger sister, Serena Williams, was having a girl after she referred to the baby as a "she" in an interview. The pregnant tennis player later explained why Venus used the pronoun, clarifying that it did not actually mean her baby is a girl. "To clarify what Venus said, I am always joking with my sisters to see what favors I can get them to do do for me next. If I want something from one of my sisters I say baby Venus baby Lyn, or Baby Isha needs it. I did not grow up with any brothers, only sisters and we all say 'she' more than 'he,'" Serena wrote on Instagram.
What can you say about the car accident involving Williams? Drop a comment below.
© Copyright IBTimes 2023. All rights reserved.