Verizon Throttling: Unlimited Data Limits Common Among US Carriers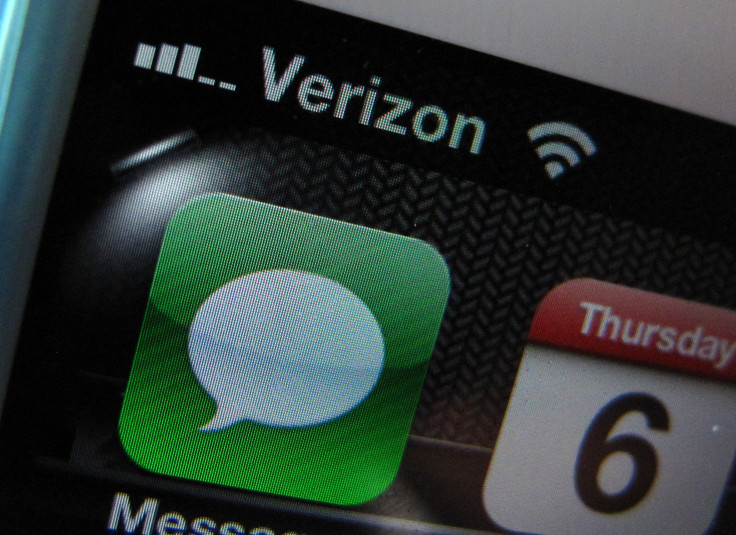 Mobile unlimited data plans aren't truly limitless in the United States, despite the public perception that some carriers may have better usage policies compared to Verizon Wireless. Subscribers of the Basking Ridge, New Jersey, mobile carrier were quick to lambaste Verizon Friday for expanding an existing policy called network optimization, which throttles or slows down 4G LTE unlimited mobile data during periods of high network usage.
Some Verizon subscribers took to the Internet to complain and threaten to switch to another carrier after the announcement of the policy. But, that may also be a futile. Moving to a different carrier doesn't necessarily keep users from receiving similar treatment, ArsTechnica reported Monday.
The outrage stems from a message from Verizon announcing the expansion of its throttling practices:
"Effective Oct. 1, Verizon Wireless will expand its existing Network Optimization policy to include its unlimited data subscribers using 4G LTE devices who have fulfilled their minimum contract term."
Verizon claims network optimization is not the same as throttling, its frequently asked questions explain. Yet that doesn't change the fact users who purchased an unlimited data plan are effectively limited by current Verizon data usage policies. With unlimited plans phased out of the carrier since 2011, not many options are available for customers dissatisfied with Verizon clamping down on unlimited 4G LTE data plan usage.
AT&T (NYSE:T) is out of the question as it was one of the first carriers to eliminate its option for unlimited data in its entirety in 2010. While many users, particularly iPhone owners, continue to remain on the carrier with grandfathered unlimited data plans, AT&T has imposed hard limits for the all-you-can-use data plans.
"Customers on a 4G LTE smartphone will experience reduced speeds once their usage in a billing cycle exceeds 5 gigabytes of data," AT&T's unlimited data policy says. AT&T doesn't specify to what speeds it slows down the connection, but the speed reduction is enough to make watching streaming video and listening to streaming audio unbearable on its network. The carrier also claims the speed reduction is primarily limited to times and areas "experiencing network congestion."
While Sprint (NYSE:S) and T-Mobile (NYSE:TMUS) continue to offer and sell unlimited data plans, their subscriber packages come with their own set of limitations.
Sprint offers "truly unlimited data" for $79.99 per month with "no metering, throttling or overages," its website says. But according to its Open Internet Information page, Sprint employs similar temporary data throttling policies during times of congestion despite claims to the contrary:
"In addition to employing fairness algorithms, Sprint may also use prioritization to prevent network congestion. Customers on devices or plans subject to prioritization management may experience throughput limitation or other prioritization policies as needed to make additional network resources available to users on higher priority devices or plans."
T-Mobile also offers an unlimited plan for its users for $80. But it also subjects users to "protective measures" for excessive usage:
"Protective Measures: To provide the majority of our customers with a good experience and minimize capacity issues and degradation in network performance, we may take certain steps with our network, including, but not limited to, temporarily reducing data throughput for a subset of customers who use a disproportionate amount of network resources."
T-Mobile notes users who exceed 5GB can also be subject to slower speeds for the rest of their monthly cycle. While metered plan users aren't subjected to overage fees, mobile data is dropped down to slower 2G speeds for the duration of the billing cycle after exceeding plan limits.
The reality is unlimited data isn't truly limitless despite the major carriers' claims to the contrary. While some users continue to hold on to their grandfathered unlimited plans, carriers such as Verizon and AT&T continue to try to persuade their users to sign up for more profitable metered plans, which are subject to overage fees.
AT&T hasn't had much success, with 44 percent of its users still on unlimited data plans, a study by Consumer Intelligence Research Partners found. Yet, Verizon appears to have been more successful with only 22 percent of its users still on unlimited data plans. While the numbers of unlimited data users on Verizon are relatively low compared to AT&T, the carrier claims the unlimited data figures are actually much lower than the CIRP study suggests.
© Copyright IBTimes 2023. All rights reserved.