VIDEO Aston Villa 1-0 Chelsea Goal Highlights: Delph Delivers Late Goal For Upset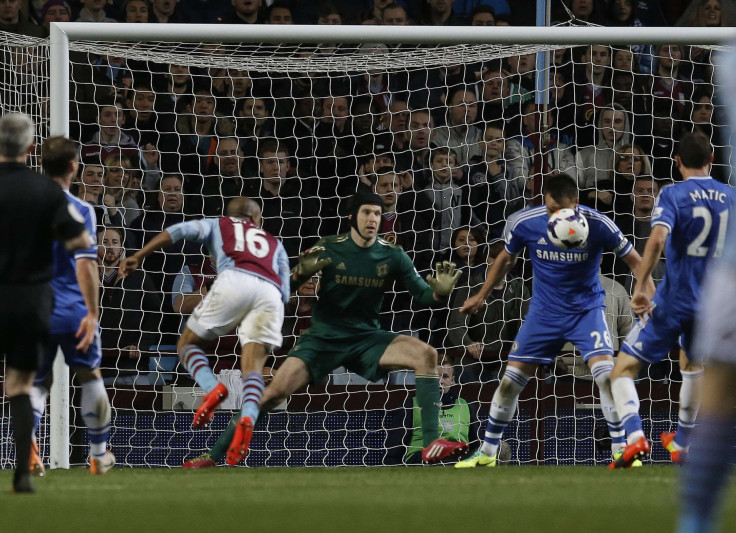 Aston Villa midfielder Fabian Delph provided the heroics and the only goal in a 1-0 victory over first-place Chelsea in Premier League play Saturday at Villa Park.
The Blues were previously unbeaten in 14 consecutive matches. The upset was encouraging news for Manchester City, Liverpool, and Arsenal, as the trio hope to cut into Chelsea's lead.
A scoreless first half bled into the second stanza, with neither side managing many shots on target until Chelsea's Willian picked up his second yellow card of the match in the 68th minute, putting the Blues down a man.
Chelsea did their best with a man down, but Delph eventually broke through for his third goal of the season off a cross from Marc Albrighton in the 82nd minute.
The Blues missed an opportunity to create nine points of separation from Manchester City atop the Premier League table, while Villa moves up to 11th. City's 2-0 victory earlier in the day over Hull City padded their goal differential and put them well within striking distance of the Premier League title.
Frustration spilling over, Chelsea midfielder Ramires was also booted from the match in the 90th minute following a rough foul on Villa's Karim El Ahmadi.
Ramires's foul was indicative of a rather physical match, with Villa whistled for 14 fouls and Chelsea eight. Villa was also booked four times, though no player was sent off.
The Blues failed to convert their 62-38 possession advantage into many quality opportunities, registering just two shots on target to Villa's four.
All Goals & Highlights ~ Aston Villa vs Chelsea...by blackcat0790
© Copyright IBTimes 2023. All rights reserved.