VIDEO Atletico Madrid 1-0 Barcelona: Highlights; Koke Goal Takes Brilliant Atleti Into Champions League Semifinals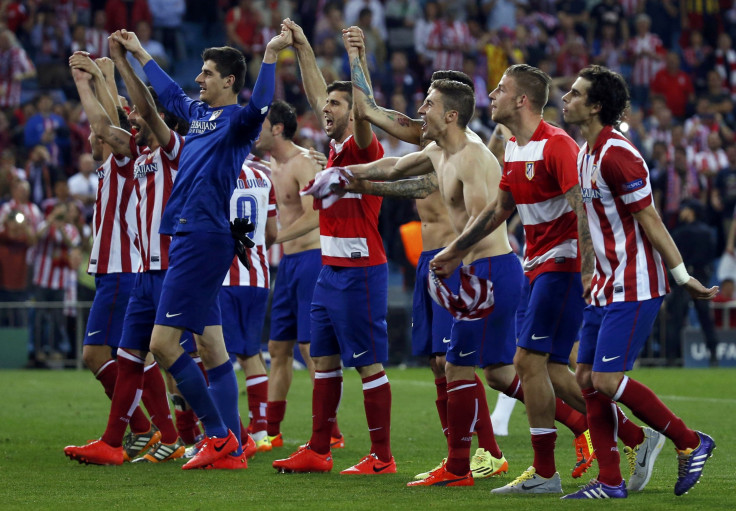 A rocking Vicente Calderon on Wednesday hailed Atletico Madrid taking their place in Europe's semifinals for the first time in 40 years as Diego Simeone's revolution reached yet new heights with a 1-0 victory over Barcelona in the second leg and 2-1 on aggregate. For Barcelona, the narrative could not be more different, with their earliest Champions League exit in seven years sure to see calls of an end to a glorious era coming thick and fast.
After a fourth consecutive draw between the sides last week at the Camp Nou, Atletico came roaring out of the blocks and Koke gave them a deserved lead early on. The tie could easily have been settled by half-time with Barcelona's woodwork struck an incredible three times. Chances were again missed in the second half to inspire a feeling that it cruelly might not be Atletico's night. But the lack of attacking impetus from Barcelona late on was startling. With five minutes remaining, the 50,000-plus crowd inside the Vicente Calderon was already on their feet celebrating. Such was the confidence they had in their team to see out the tight result. They did so with comfort.
In two-and-a-half years in charge of the transformation, Simeone has performed the miraculous. And the foundation for that turnaround, the intensity he has inspired in his squad, was in full evidence in one of the club's greatest ever nights.
Atletico started with an incredible intensity that proved too much for Barcelona to handle. And within five minutes their woodwork had been struck and then their net rippled. Adrian Lopez was living up to his manger's assertion that he would have a big game in place of the injured Diego Costa and struck a shot against the post having got in behind down the right of the box. But Atletico kept the attack going and when David Villa's cross was sent to the back post, Adrian got up well to head it back into the danger zone where Koke arrived to finish inside the six-yard box.
Atletico had been first to every ball in that attack and that pattern persisted in the opening 20 minutes. As in the first leg, Jose Manuel Pinto looked ill at ease in the Barcelona goal and almost cost his team by getting robbed as he dallied in possession. Pinto's goal was continuing to live a charmed life. Emphasizing just how flustered Barcelona were, Sergio Busquets lost the ball on the edge of the area, allowing Koke to feed through Villa, who struck the post against his former club. The frame of the goal had only just stopped reverberating when Barcelona's defense was hopelessly exposed once more to allow Villa in behind but this time the crossbar was struck.
In between Villa's two efforts, Barcelona created a chance out of nothing that could have changed the whole tie. From Dani Alves' cross, Lionel Messi was left free for one of the only occasions in the tie but headed wide of the target. Messi had another chance to finally get a goal against Atletico this season before the break but he failed to take advantage of some magic form Neymar down the left when shooting wide of the upright.
Barcelona had their best period of the match after the break when they lifted their energy levels and it looked as if an equalizer would come. Instead, Atletico's exceptional defense held firm. A sensational pass from Xavi played Neymar through but Thibaut Courtois read the Brazilian's intentions brilliantly and took the ball away from him.
And after that it was Atletico who had the chances to put the tie to bed. Gabi had the best of them when breaking clean through down the left but lacked conviction in his finish and allowed Pinto to save with his legs. The hosts should have had a penalty later, too, but Javier Mascherano escaped a blatant push on Villa before Pinto denied Raul Garcia's effort.
But such was the lack of attacking cohesion offered up by Barcelona, that an Atletico side missing the injured Costa and Arda Turan was not made to pay for their profligacy. Not so long ago the laughing stock of Spain, they are now a side that no team will relish playing in the Champions League's last four.
All Goals - Atletico Madrid 1-0 Barcelona 09-04...by 1Federico
© Copyright IBTimes 2023. All rights reserved.