VIDEO Bayern Munich 3-1 Manchester United: Highlights, Goals; Bayern Survive Evra Scare To Make Champions League Semifinals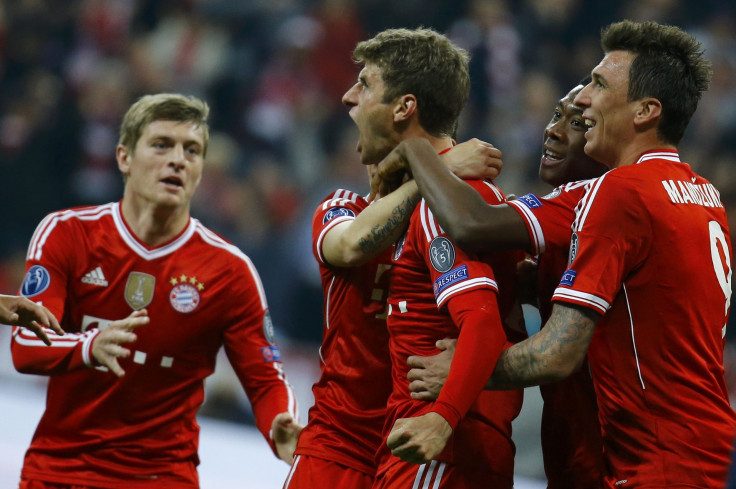 Holders Bayern Munich survived a real scare at the hands of Manchester United before finally springing to life to win 3-1 at the Allianz Arena and progress to the Champions League semifinals 4-2 on aggregate.
Manchester United's tactics differed little form the first leg at Old Trafford as the Premier League champions were happy to sit back and frustrate their opponents. Once again, though, those limited tactics proved successful for large spells in keeping a labored Bayern at bay. And the Allianz Arena was plunged into silence when Patrice Evra smashed in a sensational strike early in the second half. Suddenly the champions were staring at a shock early exit. Or at least they were for around 70 seconds.
United's goal had woken the dozing giant and Mario Mandzukic quickly equalized. Evra had been at fault for the goal to instantly go from hero to villain and the veteran full-back was exposed defensively twice more to allow Bayern to take the lead in the tie. Thomas Muller struck nine minutes later before Arjen Robben's deflected effort allowed Bayern to finally relax with 14 minutes left on the clock. It had been an unexpectedly arduous tie against a struggling United side, but Bayern were through and remain favorites to become the first club in the Champions League era to retain the trophy.
Manchester United arguably exceeded expectations over the two legs and manager David Moyes deserves credit for the valiant performance of his team. Yet, his favored defensive tactics displayed in the tie have their limitations at a club of United's stature and become even more undesirable when failing to get a desired result. Worryingly there was little to suggest from Moyes that he knew how to change things when suddenly it was his side that needed to be proactive late on. Wayne Rooney, who required an injection on a toe injury in order to play, didn't look right and yet was left on until the end while the far more threatening Danny Welbeck was hauled off with two goals needed.
But the issues are now far bigger for Moyes and Manchester United than just this defeat. After a woeful first season in charge that sees them languishing in seventh place in the Premier League, this will be United's last appearance in the Champions League for at least 18 months. And unless things improve dramatically next season, their absence will be far longer.
The first-half at the Allianz Arena had been a strange affair with Bayern dominating possession in a game in which a goalless draw would see them through, yet appearing somewhat frustrated while United seemed content.
Again United had opportunities to exploit against a Bayern defense that was not entirely secure. But with the best chance in the first half, Rooney, not for the last time, looked ill at ease in failing to make the most of it.
With a trio of deep-lying midfielders out, Bayern had a much more attacking lineup on display with a central three of Toni Kroos, Mario Gotze and Muller. In reality, Philipp Lahm and David Alaba transforming into midfielders when in possession created what was essentially a 2-3-5 formation. But for all the attacking talent, Bayern were labored going forward and far too ponderous to take advantage of their opportunities in transition. Robben was the player looking most likely to make something happen but also the most wasteful. He led Bayern's best break shortly before half-time, but dallied on the ball before eventually having his shot blocked.
The creative ability of Shinji Kagawa was largely negated in having to double up on Robben down the flank, although the playmaker did test Manuel Neuer when bursting through the middle and firing in a crisp shot just after the interval. An even better strike soon followed to hand United a shock lead.
Antonio Valencia showed some rare attacking verve to get past Alaba and put in a cross that traveled over and behind everyone in the box but fell perfectly to the on-rushing Evra, who met it with an unstoppable drive into the top corner of the net. The Frenchman has been one of United's most reliable attacking outlets this season but he has also all too often been a defensive liability. And in a microcosm of his season, he was culpable in allowing Bayern to get back on level terms while many Untied fans were still rejoicing.
Evra went to sleep from Franck Ribery's cross, allowing Mandzukic to get in front of him and stoop to head past David de Gea to raise the prospect of an added 30 minutes in Munich. Suddenly the game was opened up for the first time in the tie. Ribery struck a shot into the side netting before Rooney completely fluffed a glorious chance from Welbeck's pull back.
With Bayern now approaching top gear, Manchester United's previously watertight defense was found unable to cope. Fearful of his left foot, Evra allowed Robben far too much space on his right down the side of the box and the Dutch winger's cross was scuffed in by Muller in trademark fashion from six yards. The visitors were now a beaten team. Faced with suddenly having to take the initiative, United struggled to do so as they have all season under Moyes. And when Robben cut inside Evra and then past Nemanja Vidic before hitting a low shot that deflected off the Serbian defender and into the net, the curtain was brought down on Manchester United's 18 straight seasons among Europe's elite.
Bayern Munich vs Manchester United - Champions...by TenMillionSlaves
© Copyright IBTimes 2023. All rights reserved.