VIDEO Barcelona 5-0 Levante Highlights, Goals: Neymar, Messi, Catalans Cruise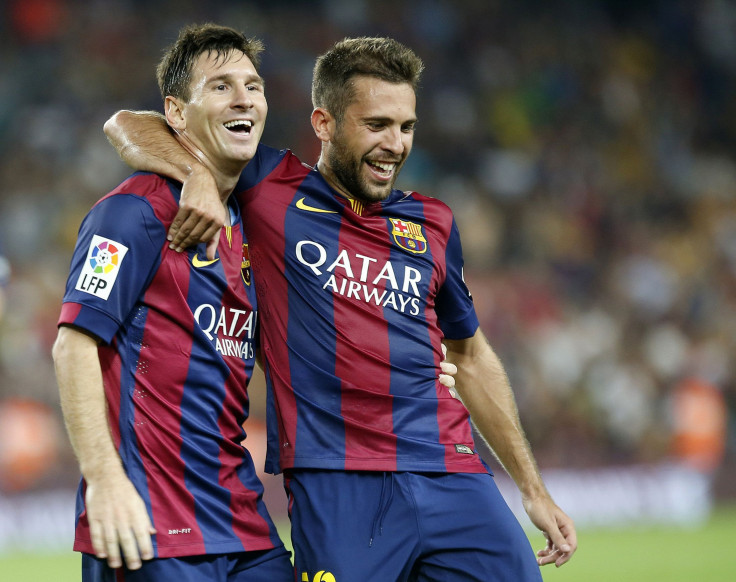 Maintaining their early La Liga lead, Barcelona made quick work of last-place Levante in a 5-0 victory Sunday in Valencia. Lionel Messi assisted Neymar's opening goal in the 34th minute, and things only got worse for Jose Luis Mendilibar's side. Defender Loukas Vyntra was sent off in the 41st minute, and the Catalans would capitalize for four more goals.
Barcelona maintained an overwhelming 75-25 possession advantage, and keeper Claudio Braco saved both of Levante's two shots on target.
Up a man, Messi's throw in led to midfielder Ivan Rakitic's incredible long range goal, his first of the year and as a Catalan, and Barcelona entered the half with a 2-0 lead.
Levante did more than its best to contain high-powered Barcelona, denying them another goal until forward Sandro Ramirez's score in the 57th minute. Some sloppy clearance play allowed Messi to gain possession, charge ahead and draw three defenders, and find Ramirez for an easy right-footed strike and 3-0 lead. A 19-year-old, Ramirez came on for Neymar in the the 51st minute, and now has two goals in four appearances since moving up from Barcelona's B team this year.
The pain would continue for Levante after forward Pedro converted Jordi Alba's save and assist in the 64th minute.
Messi would put himself on the board by rebounding Jeremy Matheiu's attempt in the 77th, and toying with Levante's defense at the top of the box before chipping in his third goal of the season.
The Catalans retain their hold of first place in La Liga.
Levante 0-1 Barcelona (Goal Neymar ) 21-09-2014by PrimeraLiga
Levante 0-2 Barcelona (Goal Rakitic) 21-09-2014by PrimeraLiga
Sandro Ramirez Goal HD Levante vs Barcelona 0...by lancepremium
Goal Pedro - Levante 0-4 Barcelona - 21.09.2014by VideoGreen
Lionel Messi Goal vs Levante ~ Levante vs...by sporithd
© Copyright IBTimes 2023. All rights reserved.