Video: Behind The Scenes At The 12th Annual Puppy Bowl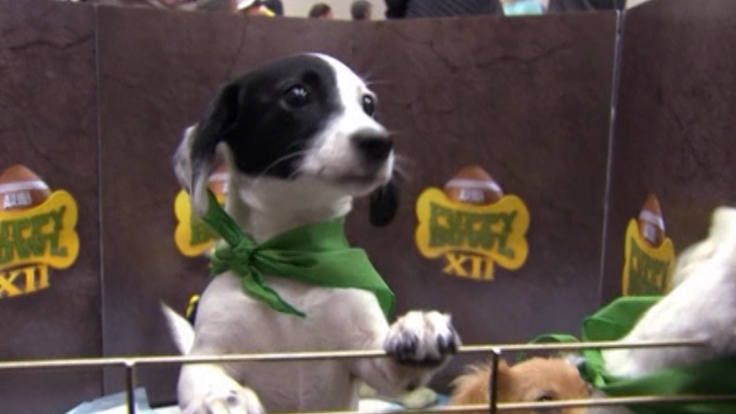 More than 80 puppies pawed their way to New York to be a part of the taping of Puppy Bowl XII to be shown on Animal Planet on Super Bowl Sunday.
This latest annual production of the Puppy Bowl featured more than just dogs and had executive producer Melinda Toporoff juggling animals of many breeds.
"We have a few new participants. Dan has a sidekick this year, another being in stripes, a little skunk who is going to be helping out with some of the calls. We have a turtle streaker, we'll see how that goes. And our chicken cheerleaders, they are actually Silkies, they look like Muppets, they look sort of like cheerleaders frankly," explained Toporoff.
The game was founded as way to raise awareness about pet adoption and offer an alternative to those not interested in the Super Bowl.
This year 44 shelters from 25 states were called upon to supply animals for the game.
"This year we're including a senior dog message as well, not to forget their older brethren who actually can sometimes have a much harder time getting adopted and finding their forever homes," said Toporoff.
Returning as referee for the fifth year is actor Daniel Schachner.
"Every year I try to come up with new creative calls and fouls. Last year we had illegal fur-mation, like fur-mation. This year I like I'm going to incorporate illegal lounging, which happens a lot on the sidelines especially with the shier puppies or the lazier puppies," he said.
While Schachner tries to remain neutral, he sometimes is influenced by the cuteness of the puppies.
"For the most we have such a wild variety that I really do fall in love with a different breed every year. This year it remains to be seen. I still haven't , you know, I'm still checking out the different breeds and I have to say there are a couple of Chihuahuas that I'm pretty partial to."
The game will premiere on February 7 on the U.S. cable network Animal Planet and will run from 3PM/ET-5PM/ET and will repeat for 12 hours.
© Copyright Thomson Reuters 2023. All rights reserved.