VIDEO Chelsea 3-0 Tottenham: Highlights, Goals; Hazard, Drogba And Remy Continue Spurs' Stamford Bridge Misery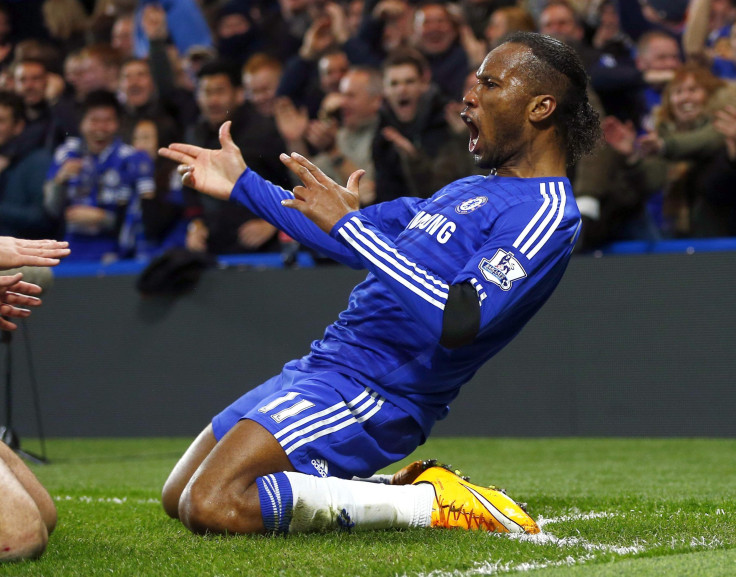 Chelsea continued their dominant recent record against Tottenham with a 2-0 victory at Stamford Bridge to maintain their six-point advantage at the top of the Premier League. Without a defeat to their London rivals at Stamford Bridge since 1990, and still without a defeat this season, Chelsea bounced back in style from two disappointingly dropped points against Sunderland at the weekend to immediately regain the momentum of their ominous title charge.
After an impressive start from the visitors, Chelsea were in total command from the moment Eden Hazard put them in front 19 minutes in with a fierce low drive following a one-two with Didier Drogba. Three minutes later Drogba himself got on the score sheet as Chelsea seized on a horrendous pass out from Hugo Lloris. The match had been won, with Loic Remy's second-half goal shortly after replacing Drogba only adding sheen to an 11th win from 14 Premier League games. Chelsea were once again ruthlessly efficient, while Tottenham, just as they had been when Chelsea won 4-0 in the last meeting between these sides in March, had surrendered a promising position and been masters of their own downfall.
After Chelsea's goalless draw at the Stadium of Light, there was much excited conjecture that the title race had been sprung back open. And, with Tottenham securing their best result under the charge of Mauricio Pochettino in beating Everton, the chances of Spurs reversing the most enduring one-sided rivalry in the Premier League looked just a little more favorable, too. Instead, Chelsea clinically slammed the door on both notions on Wednesday. As well as confirming they remain on a different level, especially in terms of organization and dedication, to their London neighbors, it was a display from Chelsea that once again showed it will still take something incredible from Manchester City or any other team to halt their march toward the championship. This result means Chelsea equal their record of 23 games unbeaten and there is every reason to think it will be obliterated in the coming weeks. Holding firm when they had to, taking their foot off the gas when they could afford to, Jose Mourinho's men, even without the injured Diego Costa, produced devastating, decisive moments of quality to blow their opponents away.
The early stages suggested this would be a far more uncomfortable task for Chelsea than the routine stroll it became. Boosted by defeating Everton 2-1 on Sunday, Tottenham began with a real purpose and intensity. Harry Kane, starting alone up front with Erik Lamela replacing Roberto Soldado, led from the front with his harrying of the opposition.
And Chelsea were rattled. Twice Kane had chances to put the visitors in front. From the first he was unlucky to see the ball come back off the crossbar having produced a fine header from an Aaron Lennon cross that was directed slightly behind him. The in-form 21-year-old will be disappointed, though, with his finish shortly after. Having disposed Gary Cahill down the left, Kane ambled inside toward goal but then dragged his effort wide of the target. Meanwhile, Cahill, who had seemingly struggled to recover from an early knock to his head, was replaced by Kurt Zouma at halftime.
By that point the contest had turned completely in Chelsea's favor. There were signs that Chelsea were beginning to find their feet and that Drogba's presence was being felt just before they got what proved to be the decisive opening goal. A quick cross-field pass left Hazard defended by Aaron Lennon, with makeshift right-back Vlad Chiriches dragged inside. Both Spurs players were then crudely caught ball-watching as Hazard laid the ball inside to Drogba and span elegantly and opportunistically in behind to receive a quick return and fire past Lloris.
If Tottenham are to get to the level of their opponents then being able to handle blows such as going behind against the run of play is a must. At Stamford Bridge their early momentum was immediately and drastically derailed. Even more crushing than the opening goal was the manner in which they conceded the second. Lloris unfathomably passed the ball out straight to Hazard and, while he was some way from goal, Tottenham's defense was in deep trouble. Hazard found Oscar, who had time to pick a pass through for Drogba to show the devastating touch of his prime and side-foot coolly past Lloris to effectively decide the contest.
Their early vigor depleted, Tottenham now looked uncertain in possession. Chiriches was robbed in his own corner and Willian will be disappointed he didn't make it 3-0 to the hosts before the interval. Wary of handing Tottenham any encouragement at the start of the second half, Chelsea sat back and ensured Thibaut Courtois would remain untroubled after his early scares. Even then, Chelsea still had the quality to put the result beyond any doubt with 17 minutes remaining. Only six minutes after replacing Drogba, Remy showed there is life without the suspended Costa by speeding in behind Jan Vertonghen before cutting back inside the beleaguered Spurs defender and slotting home a low finish.
Chelsea - Tottenham : 19' Hazardby mclarendf11
Didier Drogba Goal - Chelsea 2-0 Tottenham...by pewdiepieofficia
© Copyright IBTimes 2023. All rights reserved.