Video Of Dog Sledding Downhill Wins Internet Amid 'Bomb Cyclone'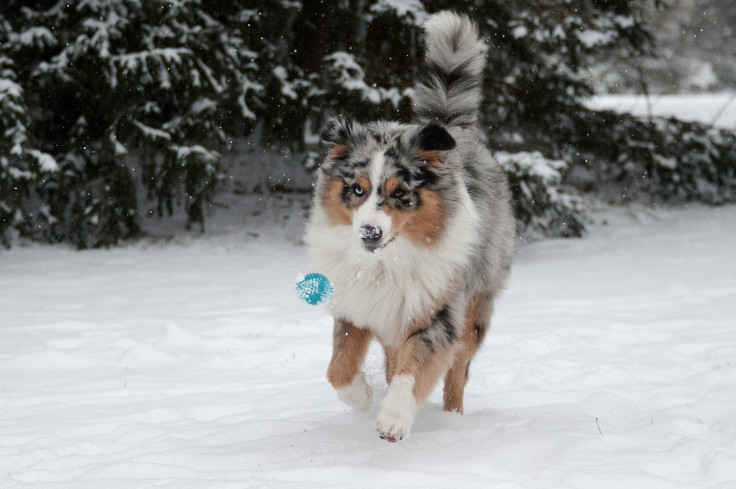 An Instagram video of a 3-year-old Australian Shepherd puppy having a blast during a snow day last week in a yard in Sioux City in northwest Iowa has won hearts on the internet amid the exceptionally cold temperatures due to the "bomb cyclone" whipping through the country. The video has been viewed over 200,000 times since it was uploaded a week ago.
The Australian Shepherd named Secret is seen in the video, uploaded by her teen owner Mary, dragging a purple sled to the top of a slope all by herself, before jumping on and sliding all the way back down. When the pup is done and is at the bottom, she drags it back with her teeth again, ready for round two.
"We finally got enough snow to really sled yesterday and Secret couldn't be more thrilled!" Mary wrote in the caption of the video on Instagram. "It's definitely one of her favorite activities, she probably went down this hill 50 times today," the caption continued.
Mary mentioned on the page that Secret is three years old and has been "learning tricks and chasing balls since 12/31/2014."
The Instagram page also boasts dozens of pictures of the pair posing in scenic spots, doing activities like painting and yoga and also putting up a Christmas tree together.
Secret's sledding video was posted to Twitter again on Thursday by a user named Chris Strider with the tweet saying, "This is the best thing you'll see all day."
"This dog figures out how to carry his sled up the hill in order to sled for hours & hours & hours," the tweet said.
The video on Twitter garnered more than 85,000 likes, over 38,000 retweets and 2,000 comments at the time of publishing this story.
A "bomb cyclone" has sent heavy snowfall and freezing temperatures across the United States prompting the cancellation of flights and thousands of snowplows sent out to clear roads. Many daily temperature records may be broken, according to the National Weather Service (NWS).
Parts of Connecticut, Massachusetts, Maine, New Hampshire, Vermont, New Jersey, New York, North Carolina, Rhode Island, and Virginia received more than a foot (30 centimeters) of snow, according to reports.
© Copyright IBTimes 2023. All rights reserved.
FOLLOW MORE IBT NEWS ON THE BELOW CHANNELS