VIDEO Intoxicated Woman Removed From JetBlue Flight On Valentine's Day After Yelling Profanity About Sitting Next To Child
An intoxicated woman onboard a flight from Miami to Las Vegas on Valentine's Day was escorted off the plane before takeoff after she grew upset over being seated next to a child.
Valerie Gonzalez, 32, reportedly began yelling at flight attendants after boarding a JetBlue flight parked on the tarmac of Ft. Lauderdale-Hollywood International Airport, when she realized her seatmate would be a toddler.
"I'm not sitting next to a [expletive] 3-year-old. I've been drinking all day," Gonzalez yelled at flight crew, according to WFOR, a CBS affiliate in Miami. She then proceeded to move to an empty seat a short distance away that was assigned to another passenger.
The crew asked Gonzalez to leave after she became displeased with her second, self-made seating arrangement, swearing at both passengers and attendants alike and spitting at the ground.
A few passengers had been recording the incident, which continued to incite Gonzalez's behavior.
"Oh, you want to [expletive] tape this, make this viral [expletive]," she said.
The video, which has garnered national attention, included one passenger asking another: "Did she just spit on you?"
Gonzalez was eventually escorted off the plane by a deputy from the Broward County Sheriff's office.
After exiting the cabin, Gonzalez tried to re-board the flight, only to be blocked by a gate agent. When Gonzalez was denied re-entry, she lashed out at the guard, hitting her, according to reports filed by the Broward County Sherriff's office.
Gonzalez was taken into custody and transported out of the airport in a wheelchair. The woman was bound with leg restraints to keep her from kicking people in her immediate surroundings.
The following morning, Gonzalez was charged with battery, with a bond set by a judge.
JetBlue released a statement that "crewmembers reported a disruptive customer onboard" and that any additional information can be directed to the Broward sheriff's office.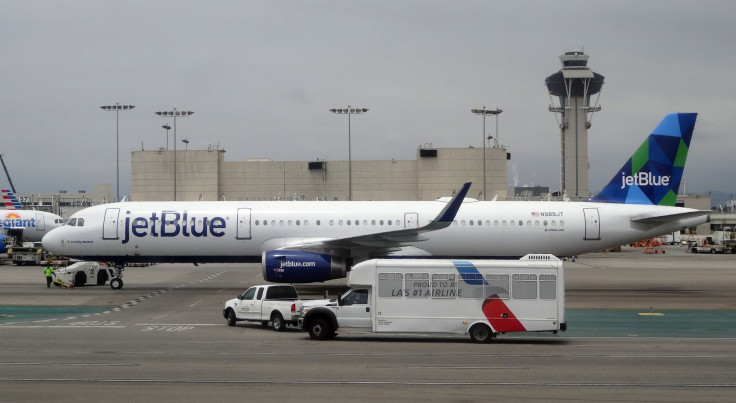 © Copyright IBTimes 2023. All rights reserved.