VIDEO Liverpool 2-2 Ludogorets: Goals, Highlights From Champions League Group Match; Can The Reds Advance To Round Of 16?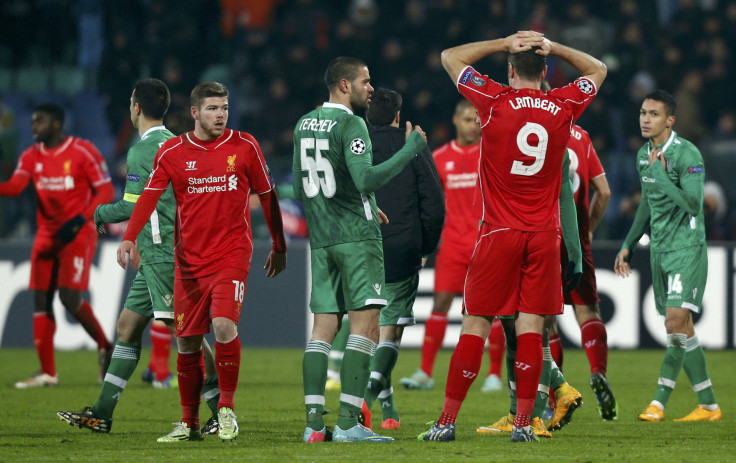 A late goal from defender Georgi Terziev helped salvage a 2-2 result for Ludogorets Razgrad against a stunned Liverpool side at Vasilij Levski National Stadium in Champions League Group B action on Wednesday.
The Reds appeared set to collect three points and move into second place, but Terziev's header in the 88th minute kept the Bulgarian side's Champions League hopes alive.
It was a thrilling first 10 minutes, with Razgrad midfielder Dani Abalo getting the scoring started in the third minute after rebounding a poorly secured ball from goalkeeper Simon Mignolet. But forward Rickie Lambert would equalize five minutes later when he capitalized off a defensive error by Cosmin Moti.
Brendan Rodgers's side would add a second goal in the 37th minute when a right-footed sliding strike from a streaking Jordan Henderson, off a Raheem Sterling assist, put Liverpool ahead. The Reds would fail to score an insurance goal, with Sterling missing a key opportunity in the 81st minute.
With group leaders Real Madrid clinching the top spot with a 1-0 win over second-place FC Basel, the final group matches on Dec. 9 will be critical for Basel, Liverpool, and Ludogorets. Basel, with six points, will only need a road draw against Liverpool, who have four points, to move on to the knockout stage.
Liverpool have been on a cold streak in November. The Reds began the month with a road loss to Newcastle in Premier League play, and followed that with losses to Real Madrid in Champions League, and league losses to Chelsea and Crystal Palace.
Liverpool will face a Basel squad that held Real Madrid to just one goal at home. In 2013-2014, Basel were eliminated in the group stage when they failed to draw with Schalke on the road.
Two teams from each Champions League group advance to the Round of 16.
Dani Abalo Goal Ludogorets 1 - 0 Liverpool 26...
by Football--Live
Rickie Lambert Goal Ludogorets 1 - 1 Liverpool...
by Football--Live
Henderson Goal Ludogorets 1-2 Liverpool (UCL...
by Football--Live
Goal Terziev - Ludogorets 2-2 Liverpool [26-11...
by Video-Sports
© Copyright IBTimes 2023. All rights reserved.