VIDEO Mexico 3-2 USA: Highlights, Goals; Aguilar Stunner Gives El Tri Victory In Confederations Cup Playoff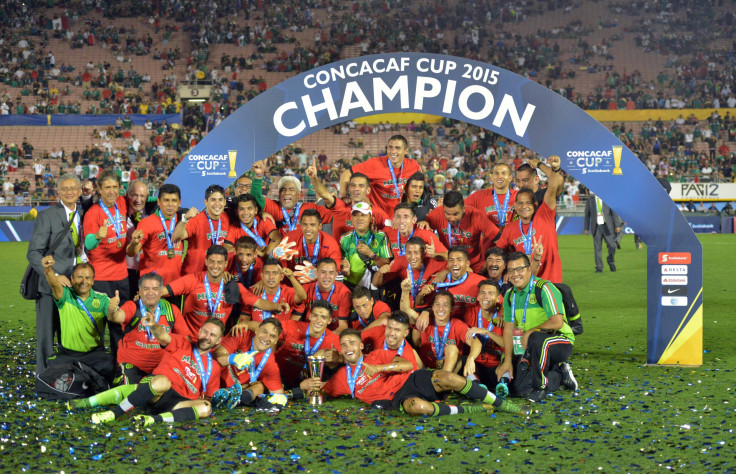 Back at the scene of its last triumph, Mexico secured its first win over the United States in four years and a place in the 2017 Confederations Cup thanks to a dramatic late extra-time winner from Paul Aguilar in front 93,000 fans at a sold-out Rose Bowl in Pasadena, California. The teams exchanged early goals through Javier "Chicharito" Hernández and Geoff Cameron, before doing so again in extra time, when Oribe Peralta looked to have given Mexico the win only for Bobby Wood to claw the U.S. level. But, when penalties looked on the cards, Aguilar came up with a sensational last word to settle a breathless contest with a perfectly struck volley past Brad Guzan in the 118th minute.
It means the balance of power tips back to the south and Mexico will take its place in Russia's dress rehearsal a year ahead of the next World Cup. And, while the decisive goal came when the U.S. was on the front foot, it was a fully deserved victory for El Tri after dominating possession and territory for the majority of the 120 minutes and seeing two clear penalty claims denied.
For interim coach Ricardo "Tuca" Ferretti, his short-lived reign will now long be remembered. Meanwhile, his counterpart Jurgen Klinsmann, who took over in the wake of the United States' last loss to Mexico, in the final of the 2011 Gold Cup, will face renewed questions about how much progress he has truly made now into his fifth year in charge.
After a dismal semifinal exit at this summer's Gold Cup and a humbling 4-1 friendly loss to Brazil last month, this was another performance that provided little to offer in support for Klinsmann. On the back foot for the majority of the 120 minutes, the U.S. showed no sign of the proactive, more possession-based soccer that Klinmann has made his objective to introduce to American soccer. And, on a day when the U.S. men's Olympic team failed to take its most straightforward route toward qualification for the 2016 Olympics, which he has an involvement in as technical director, Klinsmann has now seen his proud record of having not lost to Mexico in six attempts go by the wayside.
In the biggest match for both teams in 2015, Mexico were superior and, while it went almost to the wire, eventually came out on top to claim the Concacaf Cup in the meeting between the last two Gold Cup winners.
It was a contest played at a frenetic tempo, as if influenced more by the incredible atmosphere among the majority-Mexican crowd than any coherent tactical instructions. As a lineup featuring three strikers suggested, Mexico played with an ultra-attacking mindset right from the off. Having already been denied a strong appeal for a penalty, El Tri took a deserved lead in the 10th minute when Hernández finished off a delightful interchange between Mexico's attacking trio that bamboozled their American opponents.
But having got the advantage, Mexico took a step back, and some woeful defending gifted the U.S. an equalizer just five minutes later. Cameron found himself unmarked to head home Michael Bradley's fine free-kick delivery from six yards out.
While some U.S. adjustments helped it stem the flow of Mexico attacks for much of the remainder of the first half, Klinsmann's side was firmly on the defensive after the interval. As its opponents sat back and failed to put any pressure on the ball high up the field, Mexico poured forward time and again, with the U.S. surviving thanks to some desperation blocks and errant finishing, notably when Hernández got his feet muddled up in front of goal. There was another penalty call missed by the officials, too, when Matt Besler escaped using his arm in the box.
Six minutes into extra time, the resistance could hold no longer. The U.S. had increasingly struggled down its left side, with Jermaine Jones tiring, and Aguilar was allowed to get in behind down that flank to square for Peralta to drill low past Guzan.
It appeared that would surely be that. The U.S. had threatened only very occasionally going forward to that point. Instead, just after the halfway point of extra time, Klinsmann's substitutes came good to bring his side level for a second time. DeAndre Yedlin passed through to Wood, who added to his goals against the Netherlands and Germany this year with a clinical strike against Mexico.
It proved the catalyst for the U.S. to have its best spell of the match. If there was to be a winner before penalties, it appeared it would the side buoyed by its equalizer. Instead, with the seconds ticking away, DaMarcus Beasley committed himself, Raúl Jiménez hooked the ball into the penalty box and Aguilar sent an unstoppable volley into the far corner of the net.
© Copyright IBTimes 2023. All rights reserved.