VIDEO Mexico 3-1 Jamaica: Highlights, Goals; How El Tri Overcame Their Struggles In The Gold Cup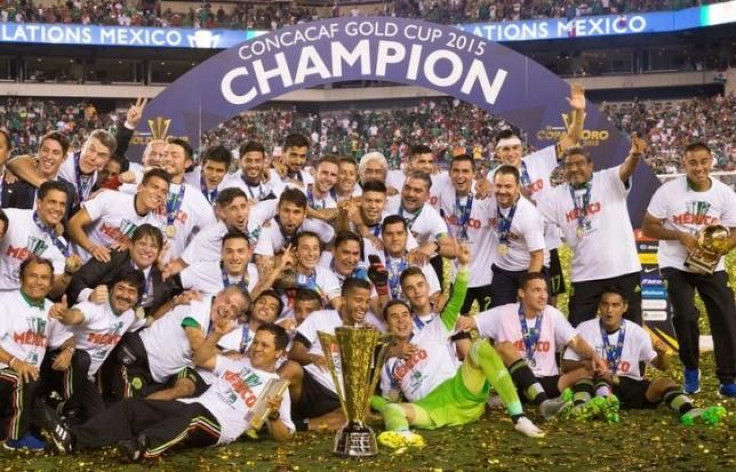 Mexico's 3-1 victory over Jamaica in the Gold Cup Final on Sunday in front of 68,930 at Lincoln Financial Field in Philadelphia will be remembered for many reasons. Miguel Herrera received his redemption, the offense finally clicked for a majority of the match, and Mexico seemed to re-establish their swagger in the Concacaf region. But the main takeaway might be that Mexico, for all their disappointments and setbacks in the tournament, once again showed that they can rise above their problems and execute their game plan when it matters.
The victory was comprehensive for El Tri, and provided Herrera with a lot more job security after he seemed to be on the verge of getting sacked. Andres Guardado, Jesus Corona and Oribe Peralta scored in the first hour of the match to take a 3-0 lead before Darren Mattocks found the back of the net in the 78th minute to make the final scoreline look a bit more respectable. But Mexico found a way to dominate action for much of the match, and the upset-minded Reggae Boyz never seemed to have real chance after the first 30 minutes.
Even without Javier "Chicharito" Hernandez and Hector Herrera in the lineup, and with Giovani dos Santos playing a small role, Mexico came through when it counted. They looked focused, their passes were sharp, and they maintained pressure on their opponents' goal for a majority of the 90 minutes.
But leading up to the final, there were flashes of a Mexico squad that seemed to be losing their grip over rather weak competition. In the group stage, Mexico was able to thump Cuba, but settled for draws against Guatemala and Trinidad and Tobago. Arguably the most dominating nation in Concacaf seemed to be teetering on self-destruction on a regular basis.
The knockout stage also proved to be more challenging than expected. Mexico outlasted Costa Rica in the quarterfinals, but needed some help from referee Mark Geiger to controversially defeat Panama. It was only against Jamaica that Mexico provided a convincing victory against a legitimate opponent.
It was a long time coming for El Tri, but they have been down this road before. On Sunday night, Mexico seemed to revert back to their late push in the 2014 World Cup, when they defeated Croatia, 3-1, and bowed out of the tournament with a strong performance against the Netherlands in the Round of 16. To some, the World Cup effort was particularly impressive given that Mexico needed some good fortune to advance to the World Cup in the first place, needing their main rival, the U.S., to win in the final minutes for El Tri to secure a berth for fourth place. The victory over Jamaica conjured up some of those same feelings, as they seemed to get some luck but took advantage of the opportunities that were presented to them.
Mexico's next meaningful matches will be qualifying for World Cup 2018 in Russia. They would almost certainly like to avoid the problems leading up to 2014, but if history repeats itself they will once again find a way to overachieve.
<iframe width="560" height="315" src="https://www.youtube.com/embed/ukHDtQvkxDk" frameborder="0" allowfullscreen></iframe>
© Copyright IBTimes 2023. All rights reserved.