VIDEO Jamaica 2-1 USA: Highlights, Goals; Reggae Boyz Stun Holders To Reach Gold Cup Final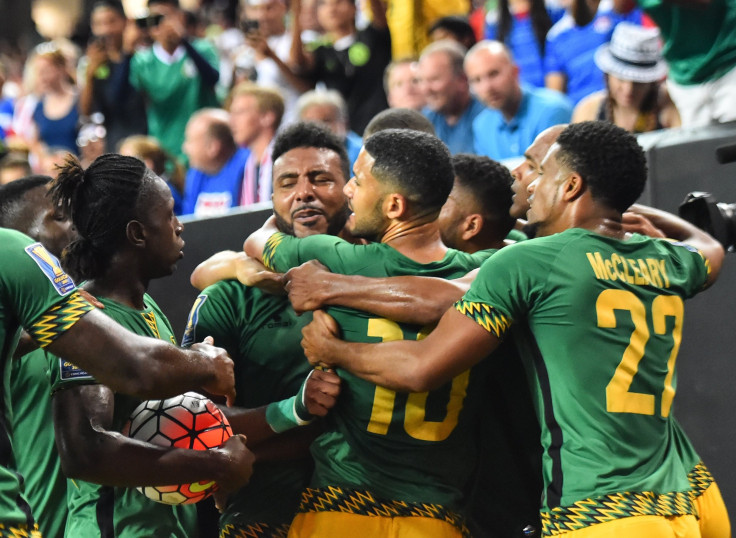 Jamaica reached its first ever Gold Cup final after stunning defending champion the United States with a 2-1 victory at Atlanta's Georgia Dome. While the U.S. had largely underwhelmed in the defense of the trophy won in 2013, it was the strong favorite to reach a sixth successive final, particularly after dismantling Cuba 6-0 in the last round. It was, as Jamaica coach Winfreid Schäfer put it in the buildup, a case of "David versus Goliath." But Jamaica, which had won three straight matches to reach the last four of the Concacaf championship for the first time since 1998, dramatically upset the script to, as Schäfer stated his team would attempt to do, "hit the giant where it hurts most."
And it was two players who ply their trade in Major League Soccer who ended the Americans' hopes of retaining its trophy and gaining a direct path to the 2017 Confederations Cup. First, Vancouver Whitecaps striker Darren Mattocks headed Jamaica into the lead just past the half-hour mark, before the Houston Dynamo's Giles Barnes doubled the Reggae Boyz's advantage with a superbly struck free-kick. Despite Michael Bradley pulling a goal back soon after halftime to set up a dramatic second 45 minutes, Jamaica never wilted in the face of mounting U.S. pressure and saw out one of the most famous results in the history of the Caribbean nation.
For the U.S., there is no hiding the fact that the result is a bitter disappointment. While recent high-profile friendly wins over the Netherlands and Germany had raised morale after a post-World Cup slump, it was the Gold Cup that was the clear priority for the team in 2015. Yet only in rare moments during the tournament did the U.S. impress. Some of Klinsmann's selections and decisions, particularly keeping faith with the inexperienced and unconvincing center-back partnership of John Brooks and Ventura Alvarado will now surely be put under scrutiny. While the U.S. Soccer Federation has backed the German coach to the hilt during his reign, it cannot be ignored that his predecessor was dismissed after losing in the 2011 Gold Cup final to a strong Mexico side.
A loss to Jamaica was not in the cards. But shrewdly set up, and utilizing its pace on the break, Jamaica proved strong enough to punish a U.S. side that had seldom looked tuned in to the task at hand throughout the competition. The U.S. will now have to take on Jamaica or the contenders in the other semifinal, Mexico and Panama, in a playoff to get to Russia in 2017.
Despite cruising past Cuba, the U.S. started on sloppily on Wednesday and Jamaica was causing plenty of problems with its athletic counter attacks. But Klinsmann's men appeared to be getting a grip on proceedings midway through the period. Jamaica was feeling the pressure and only narrowly escaped when goalkeeper Ryan Thompson dallied on the ball following a pass-back and was lucky that Aron Johannsson's challenge ended with the ball only going into the side netting.
Yet it was to be Jamaica, which went close itself when Barnes leaned back and skied a clear chance from the center of the box, that was to strike first. It was a simple enough formula, as New York Red Bulls left-back Kenmar Lawrence launched a long throw into the box and both Brooks and Ventura failed to deal with Mattocks, who rose and looped a fine header over the stranded Brad Guzan and in off the far post.
The U.S. was still reeling from that blow when its deficit was doubled just five minutes later. Guzan had been penalized for taking the ball outside of his box as he went to quickly throw it forward and was then unable to get across his goal when Barnes sent the free-kick soaring over a stationary U.S. wall and into the net.
At that point the U.S. was severely rattled and Jamaica sensed more rewards could be available. Yet by the end of the half it was relieved to get back to the locker rooms with its lead intact. Thompson came up big to smother a shot from Dempsey, just as he looked poised to find the net.
Thompson, who had an extraordinarily eventful 90 minutes throughout, was to show his bad side to let the U.S. firmly back into the contest just three minutes after the restart. From Johannsson's clever turn and low shot on the edge of the box, Thompson couldn't hold on and, while Dempsey was prevented from capitalizing, Bradley arrived behind him to pounce and dramatically raise American spirits.
With a head of steam, an equalizing goal for the U.S. didn't look far away, especially because of the uncertainty displayed by Jamaica's last line of defense. First, Thompson patted down a shot that had been straight at him and was lucky to see Johannsson head over. And he breathed an even heavier sigh of relief minutes later when he struggled to get behind a Bradley drive and watched as the ball came off his body and bounced off his right-hand post.
But Jamaica was to weather that storm, in large part thanks to maintaining an attacking purpose. While more pressure was to come late on, with Brooks and substitute striker Alan Gordon going close, Jamaica, helped by some superb last-ditch defending from Michael Hector Adrian Mariappa, bravely and superbly resisted.
© Copyright IBTimes 2023. All rights reserved.