VIDEO: Real Madrid 2 - 0 Elche: Highlights, Goals; Benzema Scores, Has Amazing Bicycle Kick Called Back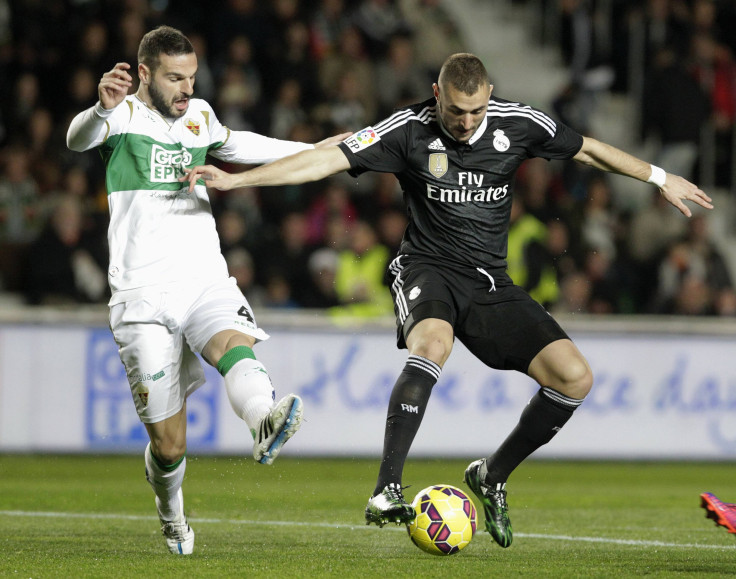 Spurred by a Karim Benzema finish and wonderful header goal from Cristiano Ronaldo, Real Madrid topped host Elche 2-0 in a league match at Estadio Manuel Martínez Valero. The result marks the third consecutive victory for the Spanish titans, across all competitions, since the humiliating defeat to Atletico Madrid on Feb. 7.
Real Madrid punished the Elche defense from the start. Ronaldo almost got Los Blancos on the board in the fourth minute with a sharp shot from distance that clanked off the right post, after Benzema found him on the left side. Real Madrid were stopped on two quality 11th-minute chances by Elche keeper Przemyslaw Tyton. The extreme attacking pressure from Real Madrid continued throughout the first 20 minutes of the match but Elche managed to avoid an early score.
The officials may have helped Eleche, as well. Real Madrid had an amazing bicycle-kick, breakthrough goal called back for offsides in the 38th minute. Benzema found himself open behind the Elche back line and struck a wonderful bicycle kick into the back of the net off of a cross. The line judge ruled Real Madrid offsides, in a rather questionable call.
Despite continued pressure and a fair amount of scoring chances, the score was knotted at zero at halftime. Elche had the first real chance of the second half when Aarón hit a low shot to the left corner that keeper Iker Casillas was just barely able to knock away.
The opening goal finally came for Carlo Ancelotti's side in the 56th minute. In a bit of poetic justice, it was Benzema who knocked in a sitter in front of the net after a Ronaldo cross was misplayed in the box by the Elche defense. The league leaders kept the pressure on after the goal to try and extend the lead.
The second goal for Real Madrid came in the 69th minute from superstar Ronaldo. The winger powerfully headed in a cross from midfielder Isco that snuck over Tyton's outstretched hands and under the crossbar. Elche had been fighting hard to stay in the match but the 2-0 deficit seemingly was too much to overcome. It was a strong performance by an overmatched Elche side, however, and they would not let Real Madrid simply walk away with an easy win.
The victory put Los Blancos four points clear of rivals Barcelona atop La Liga. Real Madrid move on to host Villarreal in a league matchup next Sunday. Up next for Elche is a road match at Celta Vigo on March 2.
Karim Benzema Amazing Bicycle Kick Goal...by EarthSavi
Goal Benzema - Elche 0-1 Real Madrid - 22-02-2015by FVO_HD
Goal C. Ronaldo -Elche 0-2 Real Madrid - La...by mf2014
© Copyright IBTimes 2023. All rights reserved.