VIDEO 'SNL' Cold Open: Watch Kate McKinnon's Dr. Fauci Mock COVID-19 Vaccine Distribution
"Saturday Night" Live took a break from mocking President Trump to poke some fun at the recent approval for the COVID-19 vaccine.
The nearly 6-minute sketch featured "SNL" cast member Kate McKinnon playing Dr. Anthony Fauci, and castmember Heidi Gardner as Dr. Deborah Birx.
The two were introduced by CNN's Wolf Blitzer, played by Beck Bennett. In the sketch, Blitzer compares the distribution of the vaccine to purchasing the popular Sony gaming system Playstation 5.
"Everybody wants it, nobody can get it -- and if you're rich you already had it a month ago," he said.
McKinnon's Fauci appeared to acknowledge the fact that the U.K. approved the Pfizer vaccine shortly before the U.S. announced its decision.
"We're doing this 'World War II-style.' We made England go in first, see what's what, and then we swoop in at the end and steal the spotlight," McKinnon said.
Fauci and Birx then explained the first doses of the vaccine would go to health care workers, and then "super seniors, anyone who pays for Red Lobster with a Diner's Club Card."
Next on the list would be prisoners, followed by teachers, sick people, and then everyone else. However, Fauci couldn't give an exact timeline as to when the rest of the nation can expect to receive the vaccine. "That will be July twenty ... bada bada," McKinnon joked.
The sketch included Dr. Fauci stating that the vaccine would be distributed in alphabetical order starting with "A-California" and followed by "Ba-New York City."
Meanwhile, those in New Orleans can expect to receive their vaccine "Mardi Gras style." "The more you show, the more you get," was McKinnon's line.
McKinnon's Dr. Fauci also hoped that distribution goes well so he can step out of the spotlight and go back to being an "anonymous hunk."
"Saturday Night Live" has poked some fun at Dr. Fauci since he drew some spotlight amid the pandemic. Wearing a wig, actor Brad Pitt previously portrayed Dr. Fauci and later earned an Emmy nomination for outstanding guest actor in a comedy series category for the segment.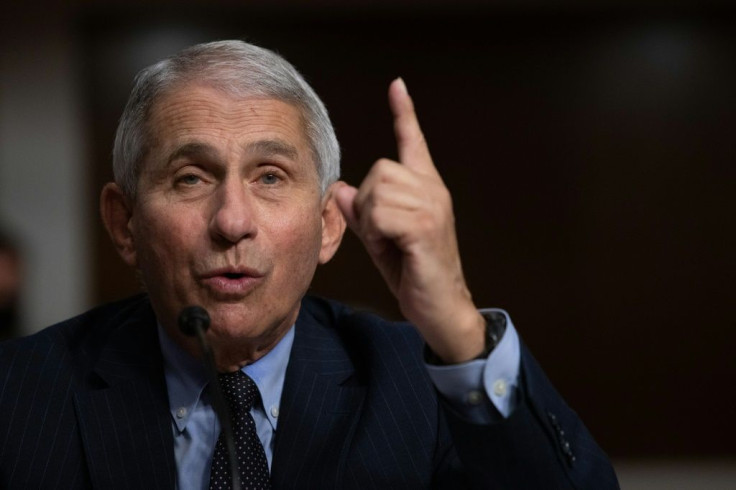 © Copyright IBTimes 2022. All rights reserved.
FOLLOW MORE IBT NEWS ON THE BELOW CHANNELS