VIDEO 'SNL' Skits From Last Night: Watch Cold Open, Weekend Update Mocks Will Smith's Oscars Slap
After a brief hiatus, "Saturday Night Live" returned and jumped on the opportunity to mock Will Smith slapping Chris Rock at the Oscars. The episode was hosted by comedian Jerrod Carmichael and featured musical guest Gunna.
Along with covering the drama between Smith and Rock, "SNL" also managed to take aim at some of the week's political headlines, including former President Donald Trump, as well as Clarence and Ginni Thomas.
Here are some of the notable sketches from the 16th episode of "Saturday Night Live" Season 47.
Cold Open
The comedy sketch show began the night with a parody of "Fox and Friends," featuring Brian Kilmeade, played by Mikey Day, and Ainsley Earhardt, played by Heidi Gardner, as well as Steve Doocy, played by Alex Moffat.
Kenan Thompson and Kate McKinnon were the first guests of the night, playing the roles of Supreme Court Justice Clarence Thomas and his wife, Virginia "Ginni" Thomas, respectively.
Thomas wasn't willing to give the host clear answers. When asked if he was in the hospital, he replied, "That's what they say."
The host attempted to clarify if Thomas was ill with COVID-19, but the judge refused to give an official confirmation. "Anything is possible," Thompson said.
The host then discussed how Ginni's Jan. 6 texts to Mark Meadows to overturn Joe Biden's 2020 presidential election victory had some lawmakers calling for Thomas to recuse himself.
"Yes, and I don't want any trouble. I take my duty as the Yoko Ono of the Supreme Court very seriously. All I want is the tidal wave of biblical vengeance to wash away the Biden crime family all the way to Gitmo, and then we release the Kraken," McKinnon said.
The show was later visited by Trump, played by James Austin Johnson, who attempted to talk about the infamous Oscar slap but confused the incident with the slap from Smith's 2005 film, "Hitch."
Johnson's Trump later attempted to deny causing a coup on Jan.6 and using a burner phone but mistakenly admitted to doing both before the cast yelled, "Live, from New York, it's Saturday Night!"
Weekend Update
The "SNL" fake news segment also took aim at the Oscar slap by welcoming O.J. Simpson, played by Thompson, to share his opinion about the altercation.
"You know me, I hate conflict," Thomspon said. "They both seem like good guys, but honestly, I ain't even understand Chris Rock's joke."
After Thomspon's Simpson admitted that he didn't understand Rock's "G.I. Jane" joke, co-host Michael Che revealed it was referencing the 1997 film starring Demi Moore. "The 90s? Oh, I don't remember nothing from the 90s," Thompson said.
The star quickly attempted to change the direction of the conversation by continuing his thoughts on the incident.
"In my humble opinion, Will Smith maybe overreacted to Chris Rock's joke," Thompson told Che. "I don't want to say you got rage issues. But, hey, if the glove fits..."
Thompson went on to make light of Simpson's past by referencing Smith's Oscars acceptance speech. "Cause like Will Smith said in his speech, 'love makes you do crazy things' — allegedly," he said.
Seat Fillers
This time around, "SNL" gave viewers a parodied close-up of what happened before and after Smith slapped Rock at the Oscars. In the skit, Chris Redd played Smith, who appeared to have a friendly conversation with a seat filler, played by Carmichael.
Smith returned to his seat following the slap and casually continued his conversation with the seat filler. "Hey, so where are you from, man?" Redd calmly asked.
The seat filler's answer was interrupted as Redd yelled Smith's infamous line, "Keep my wife's name out your (expletive) mouth."
Redd then casually asked the seat filler about the selfie he wanted to take with the star, but Carmichael's character was no longer interested. "No that's O.K., I deleted my phone," Carmichael replied.
Redd continued to hold a casual conversation with Carmichael and another seat filler before yelling out one of Smith's lines from his acceptance speech.
"Richard Williams was a fierce protector of his family," Redd shouted before revealing he would include the sentence in his speech.
The skit ended when Smith's "Gettin' Jiggy Wit It" began playing, and Redd danced similar to the actor during an Oscar afterparty.
Actor Jake Gyllenhaal will host the next episode of "Saturday Night Live" with Camila Cabello as the musical guest.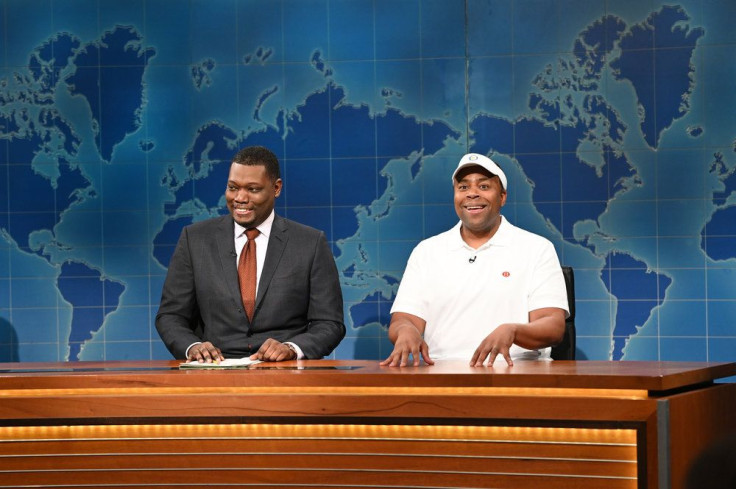 © Copyright IBTimes 2023. All rights reserved.