'Vikings' Season 2 Spoilers: Will King Horik Betray Ragnar And Help Jarl Borg Escape In Episode 7? 'Blood Eagle' Rumored To Be Most Shocking Moment In TV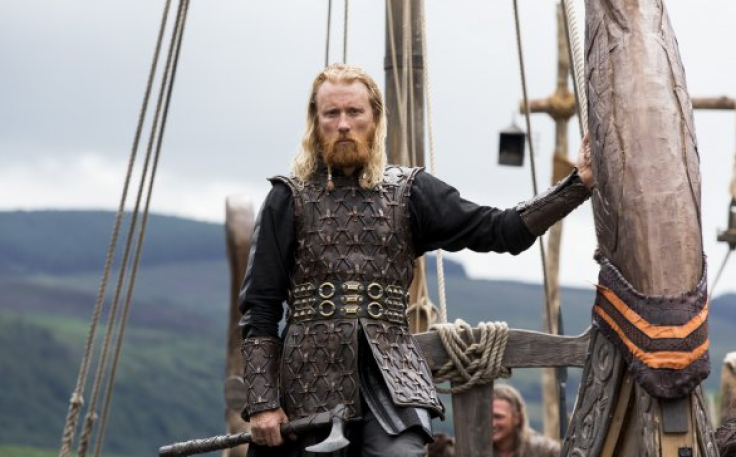 It looks like Ragnar will be dealing with a traitor in episode 7, and we're not referring to Jarl Borg! When "Vikings" airs a new episode Thursday, the Earl of Kattegat may be coming face to face with another conspirator: King Horik. Or at least, that's what the leaked promo for "Blood Eagle" suggests.
In the trailer, we hear Horik try to convince Ragnar not to kill Borg. The reason being, Horik needs Borg and his ships to complete his journey of sailing back to Wessex and getting revenge against King Ecbert. But Ragnar doesn't care about Horik's mission of retribution. Now that he has Borg in the palm of his hand, Ragnar wants to see the treacherous Jarl of Gotaland suffer for attempting to take over his village and threatening the lives of his family.
"Do you really think I could ever forgive this man?" Ragnar asked Horik. Seriously, if there's one thing Ragnar is protective over, it's his family. And Horik should know that by now.
Despite Ragnar's desire to rip open Borg's ribcage like the wings of a flying eagle, Horik will toy with the idea of helping the prisoner escape.
"What would you have me do?" Horik asks Ragnar's captive, who is anxiously waiting for his execution day.
"I would arrange for my escape," Borg responds. "And that I will kill Ragnar."
Do you think Horik would actually betray Ragnar to free Borg? With only four episodes left in the second season, it sounds like a plausible situation. Not to mention, "Blood Eagle" has been described as the "most shocking moment in television," according to episode 7's promo.
Fans are speculating that Horik will betray Ragnar and help Borg escape. But can Borg really run away from his gruesome fate, which The Seer has proclaimed? We doubt it.
Do you think King Horik will betray Ragnar and free Jarl Borg against the Earl's will? Let us know your predictions for next week's episode of "Vikings" by taking the poll below.
© Copyright IBTimes 2023. All rights reserved.