'Vikings' Star Alyssa Sutherland Bids Farewell To Latest Season 4 Character Killed; Weighs In On Death Shock Factor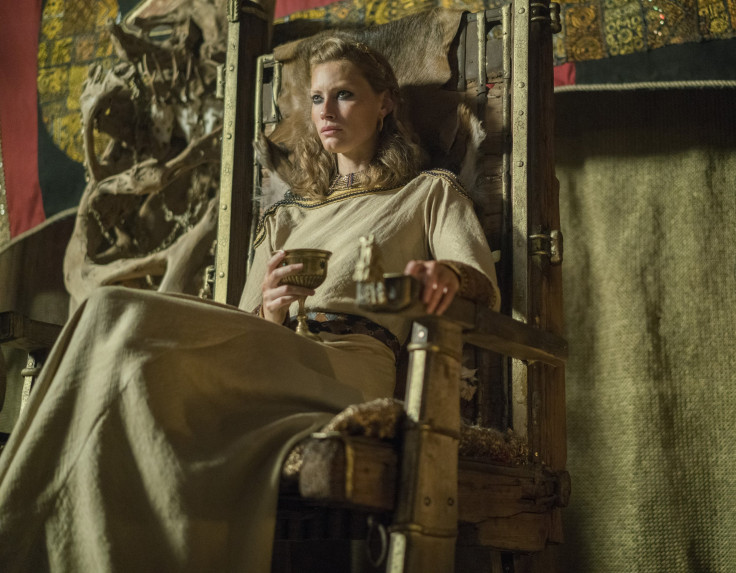 All may be fair in love and war, but that doesn't make accepting the deaths on History Channel's "Vikings" any easier. On Wednesday, viewers tuned in to Season 4, episode 14 to learn what happened when Lagertha arrived in the city ruled by Queen Aslaug — the wife Ragnar took after her.
WARNING: Spoilers ahead from "In The Uncertain Hour Before the Morning."
The pair came face-to-face in the town square, where Queen Aslaug (Alyssa Sutherland) addressed her invader for the first time. There was a certain sense of calm in her behavior, which the Australian actress claimed stemmed from being aware of her fate. In an interview with ET Online, Sutherland said that the queen was well aware of what she had done to land herself in this predicament and "exactly what's going to happen to her."
While Sutherland believes Aslaug saw her death coming, she certainly couldn't have known how she was going to be killed. After her confrontation with Lagertha (Katheryn Winnick), the queen turned to walk away. As she did, Ragnar's (Travis Fimmel) first wife — who had just agreed to her surrender — fired an arrow into her back.
"I kind of love that whole scene for her," Sutherland said. "You sign onto any show, you know that you could go at any point. You don't know how long they're going to keep you [or] how long storylines are going to go. All you really hope for is that if you're going to go, you get to go out with a bang, and I was so thrilled when I read that scene."
Sutherland posted one final goodbye to Queen Aslaug on Instagram. One hour before the show aired, the 34-year-old posted a photo of her character jumping on a mountainous set. She shared no caption with the photo, which now has more than 6,000 likes.
Episode 14 is the third in the latter half of Season 4. When the show left off, Queen Aslaug was shown with Ragnar's son Bjorn (Alexander Ludwig) in their village. She had stumbled upon a wanderer, whom she introduced to her stepson. After their introduction it came to light that the stranger was an elderman of King Ecbert (Linus Roache). The stranger revealed to Aslaug and Bjorn that Ragnar had another son with Queen Kwenthirth (Amy Bailey). The child's name is Magnus and he was thought to be 12 years old.
The wanderer said that Ragnar's Wessex settlement had been destroyed, which was news to Bjorn. Ragnar's son refused to believe it until the stranger was able to confirm the information. The problem? Neither Bjorn nor Aslaug had seen Ragnar in ages and believed he was unreachable.
While they dealt with that quandary, Bjorn rushed to tell his other brothers what he'd learned. Some vowed to kill Ragnar for betraying their people. Others, including Ivar (Alex Høgh Andersen), decided to stand with Ragnar. Bjorn then decided to visit Floki (Gustaf Skarsgård) and Helga (Maude Hirst), who confirmed the wanderers claims about Wessex. Bjorn then set his sights on convincing Floki to build him a ship. The vessel was intended to be used to sail the Mediterranean — if it existed, that is. Floki agreed with little to no hesitation.
"Vikings" airs Wednesdays at 9 p.m. EST on History Channel.
© Copyright IBTimes 2023. All rights reserved.