Vintner Trio Aim To Put Winters On The Map With Production Of Premium Wines
* This is a contributed article and this content does not necessarily represent the views of IBTimes.
The successful vintner trio of Dan Martinez, Corinne Martinez and Santiago Moreno of Berryessa Gap Vineyards are on a journey to put their corner of California on the map through their range of premium wines. Their story is closely linked to the unique microclimate of the Winters highlands. It is not only located alongside Highway 128 which stretches along 140 miles of the Californian coast, but is also in close proximity to a lake on the inner slope of the North Coastal range. The mix of the long growing season, warm days, cool nights and the thin soil in this region ensure that the grapes grown in this family owned and managed vineyard yield the finest wines.
The story of the Berryessa Gap Vineyards begins with the father of Dan and Corinne Martinez, Dan Martinez Sr. A first generation immigrant from Spain, he had a strong work ethic, began farming in the early 1960s, and set up the Martinez Orchards. He wanted to grow and sell products of the finest quality and planted apricots, almonds, prunes and walnuts. In 1969, he diversified into the grapevine rootstock nursery business along with well known wine historian, Ernest Peninou. They sourced certified grapevine rootstock from UC Davis, planted increase blocks, and sold to many of the leading vineyards in the Napa and Sonoma valleys. At that time, there were only a handful of vineyards in Napa. The wines from this region became famous for their quality, and this number increased to more than 700. Thus, Dan Martinez ventured into vinestock cultivation at just the right time.
In light of this strong family connection to the production of grapes, his son, Dan Martinez Jr joined the family business in the late 1990s. He teamed up with his dad's foreman, Santiago Moreno to purchase the Coble Ranch which overlooks the Berryessa Gap. They ventured into winemaking, first on a trial basis, and scaling up as they understood the intricacies of making high quality wines. They only used rootstock from Martinez orchards to plant their estate vineyard, and initially produced only estate wine. As they expanded their collection, they started sourcing grapes from other trusted growers who had vineyards in AVAs that were near to them.
Corinne Martinez, his sister, joined the family business recently after spending many years in the tech industry in highly senior positions. She brought a fresh pair of eyes and marketing expertise to the firm. Corinne played a key role in developing and launching a range of wine-based aperitifs called 'L'Apero Les Trois'. These farmhouse-style aperitifs are made from Berryessa Gap Vineyard wines, locally sourced seasonal fruits like quince and aromatics. The aperitifs that are part of the 'L'Apero Les Trois' were initially developed by two close friends Georgeanne Brennan and Nicole Salengo using Berryessa wines. Corinne was impressed by their efforts, especially in light of Georgeanne's background as an author of a recipe book for aperitifs. She developed the concept of the handmade aperitifs that are now part of the L'Apero Les Trois range..
The third partner, Santiago Moreno, who immigrated to Winters from Mexico as a teenager, worked alongside Dan Martinez Sr. as his foreman at the orchard and nursery for many years before teaming up with his son in 1998 to set up Berryessa Gap Vineyards. Along with Dan Martinez Jr., he oversees the agricultural practices for both Martinez Orchards and Berryessa Gap Vineyards based on his keen understanding of local climate and growing conditions for wine production.
The siblings, along with their partner are now seeking to position Winters as the new destination for premium wines in California.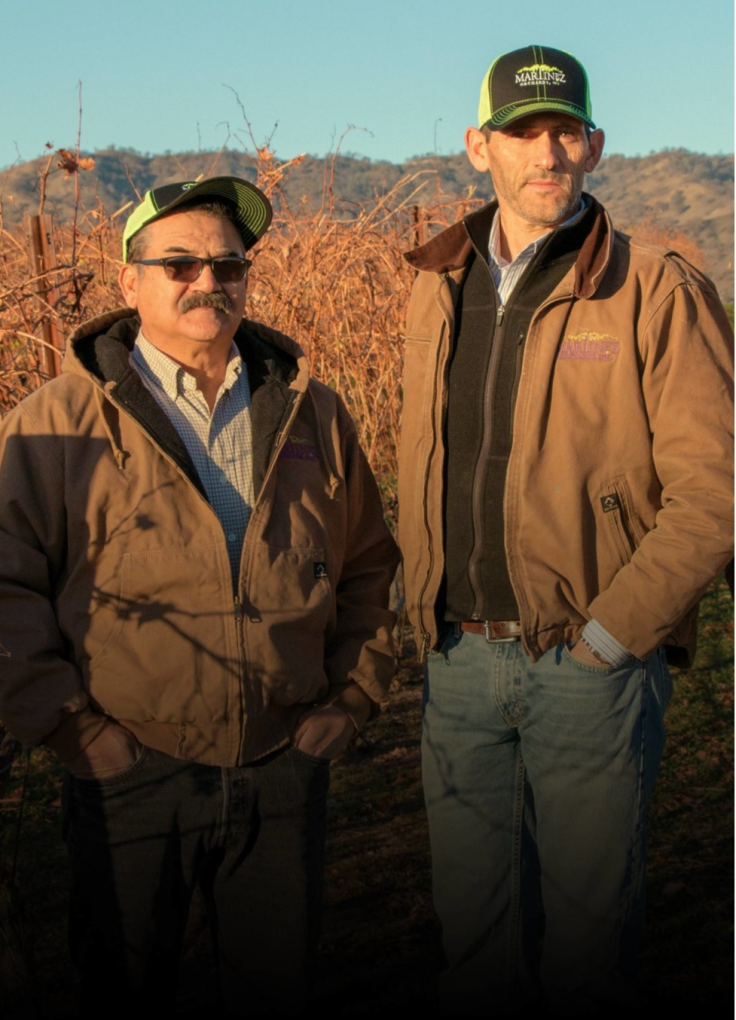 Commenting on what makes Berryessa Gap Vineyards different from other vineyards, Dan Martinez, Jr. said, "From the beginning, our focus was on producing wines of the finest quality. You can't get good wine out of bad grapes. Soil quality, irrigation practices, air temperature, ripening time and the extent of pruning and shading all play a part in the quality of the wines. We grow grapes that are most suited for our climate and soil from certified rootstock. We don't compromise on quality for yield. In a scenario where many vineyards consider a yield of 10 tons of grapes per acre to be low, we are happy to get 3 tons per acre if they are grapes of the best quality. Instead of fermenting wine in large tanks, we use the small lot fermentation technique. Advanced monitoring systems are employed for proper irrigation to maintain the fine balance between stressing the plants and ensuring that they get enough water. It is this attention to even small details that make our wines some of the best wines produced in this region."
Concluded Corinne Martinez, Co-owner, President & COO of Berryessa Gap Vineyards, "We have a system of checks and balances for every stage of wine production, from selection of the vinestock to the type of barrels we use for the aging of the wines. We invest in the latest technologies. Our winemaker, Nicole Salengo, is constantly testing and smelling wines. We follow a meticulous protocol for each variety of wines instead of a one size fits all approach and this reflects in the quality of our wines."
About Berryessa Gap Vineyards
Named after a prominent pass in California's North Coast Range, Berryessa Gap Vineyards is a prominent winery, outside the town of Winters, that makes award winning wines from estate grown grapes.
Media Contact:
Name: Carey Bettencourt
Email Address: carey@berryessagap.com
© Copyright IBTimes 2023. All rights reserved.