Violence At Trump Rallies Makes Cruz, Kasich, Rubio Squirm Ahead Of Florida, Ohio, Illinois Primaries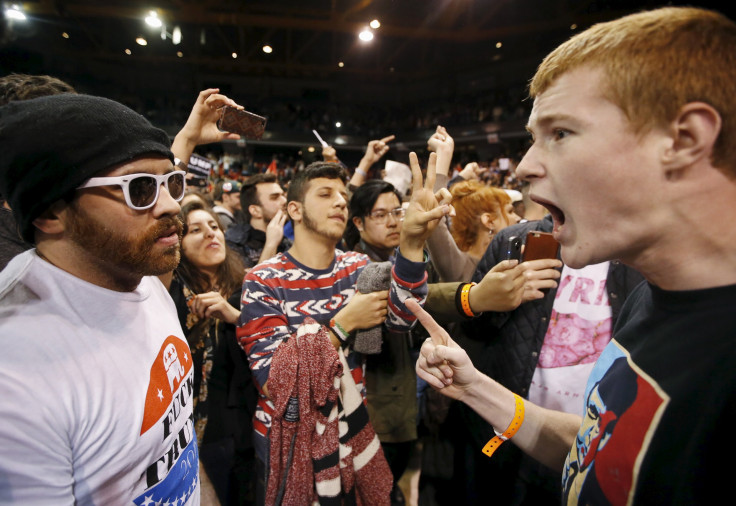 To condemn or not to condemn? That seems to be the question for Republican presidential candidates confronted with the question of violence at rallies for Donald Trump, the leading candidate for the GOP nomination, who himself blamed "bad dudes" for the violent outbreaks at his events over the weekend.
On "Meet the Press," Trump absolved himself of blame for inciting violence, saying, "I'm just the messenger."
His rivals were squirming. "The First Amendment gives every one of us the right to speak, but not to disrupt others," Texas Sen. Ted Cruz told George Stephanopoulos on ABC's "This Week" Sunday. "I don't think you should be encouraging people to violence," he added. "We need a candidate who respects the people, who engages – even engages the protesters with civility and respect, not with hostility."
But he declined to say that the violence at rallies for Trump in recent weeks would make it more difficult for him to support the real estate mogul, should Trump win the nomination. So Stephanopolous pressed Cruz. "If you believe that Donald Trump and his campaign are encouraging violence, how could you support him if he's the nominee?" he asked.
"I'm not condoning it," Cruz responded. He made a plug for his own campaign, saying, "Hillary Clinton would be a disaster for this country," before calling it "mathematically impossible" for others vying for the Republican nomination, like Florida Sen. Marco Rubio and Ohio Gov. John Kasich, to win.
Cruz, loose with his facts, also critized Donald Trump as being long enmeshed in political and "the system," saying, "He is Washington." (The real estate mogul has never held elected office.) "If Donald is the nominee I think it is a disaster," Cruz added. Cruz touted his own presidential campaign as being "the only campaign now that has beatn [Trump] not once, not twice, not three times, but eight different times all over the country."
Kasich, too, refused to condemn outright the recent violence between supporters and protesters at Trump rallies that has led to fistfights and arrests. Asked by Stephanopolous whether Kasich would stand by earlier statements that he would support Trump as the Republican nominee, the Ohio governor acknowledged that he had pledged his support, then added, "But sometimes it's really tough." He quickly said, "George, I don't think he's going to be the nominee."
Florida Sen. Marco Rubio similarly shied away from condemning Trump, even as he criticized the businessman for not condemning the violence. Instead, he admitted to Stephanopoulos that "it's getting harder every day" to stand by his pledge of supporting the Republican nominee for president.
"Because while I don't want Hillary Clinton to be president of the United States.... I do not want the Republican Party or the conservative movement to be defined by what I'm seeing out of Donald Trump's campaign," Rubio said.
Meanwhile, the latest polls show that Trump, who continues to lead the field of Republican candidates, is likely to win Florida and Illinois, while Kasich holds a lead of 39 percent to Trump's 33 percent in Ohio.
Trump said told Chuck Todd on NBC's "Meet the Press" Sunday that he did not accept responsibility for when one of his supporters punched a protester earlier in the week. Trump had previously said of a protester, "I'd like to punch him in the face." Trump said his offer to pay the supporter's legal fees did not constitute condoning violence and and that he had done "a great thing" by canceling a rally in Chicago., "Who needs people getting hurt? I didn't want that."
Trump said the violence is rooted in people who are "sick and tired of this country being run by incompetent people that don't know what they're doing on trade deals, where our jobs are being ripped out of our countries."
"They're not angry about something I'm saying. I'm just a messenger," he said.
© Copyright IBTimes 2023. All rights reserved.