Virginia Raggi Rome's First Female Mayor Becomes Hit With Masses For Her No-Nonsense Look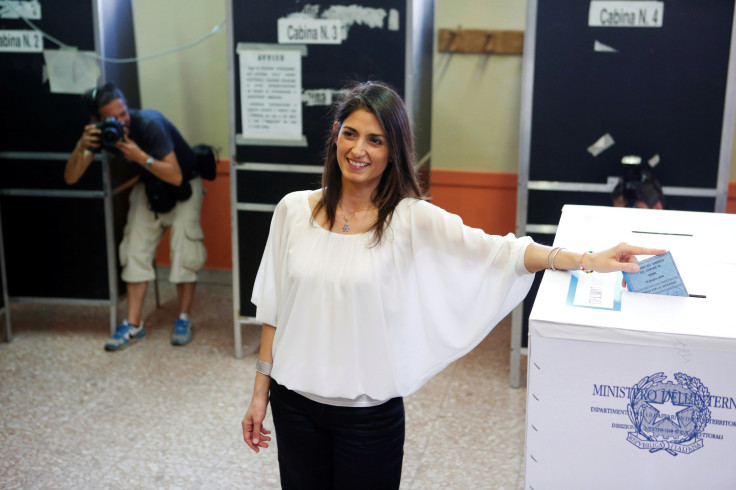 Virginia Raggi gave her first-ever interview to Euronews on Wednesday. She has been catapulted to fame after becoming the first mayor of Rome in the country's history on Sunday. The 37-year-old lawyer from an anti-establishment party won a landslide victory in the Italian capital with her no fuss look.
Raggi, who will turn 38 in July, is also the youngest mayor in Rome's history. She belongs to the Five Star Movement, or M5S, became a hit with the masses thanks to her no-nonsense look and barely there makeup. The outspoken lawyer oozed sobriety and earnestness. Virginia is always dressed casually in jeans and a white T-shirt.
The brunette beauty, who is estranged from her husband and has a seven-year-old son opted for a sexy black miniskirt and high heels on a recent popular TV show, which went down very well with viewers. According to ANSA news agency, the civil lawyer is "precise, determined, and a stickler for detail." However, Virginia's critics have pointed to her lack of experience as a shortcoming to her mayoral career.
The mayor's political experience is limited to a few years on Rome's City Council. "The first thing I would say ... is that finally Rome will have a female mayor," she wrote about the gender significance of her victory in a post on a party blog. From anonymity to becoming a lawyer, then a local councillor, Virginia has become one of the best-known faces in Italian politics that too only in a few months on the campaign trail.
Born in Rome, the intellectual property rights lawyer has had a meteoric political rise. She came into politics when she was elected to the city council in 2013. She sat in opposition to Ignazio Marino, a Democratic Party mayor who was forced to resign last year over an expenses scandal. Her telegenic looks received a lot of attention in the Italian press, but she insisted that she wants to be judged on her political accomplishments.
It was the birth of her son that egged her into politics, as she wanted to shake up the city to give her child a livable environment.
© Copyright IBTimes 2023. All rights reserved.