'The Voice' Season 10 Spoilers: Top 10 Of 2016 Perform As The Coaches Struggle For Superiority [RECAP]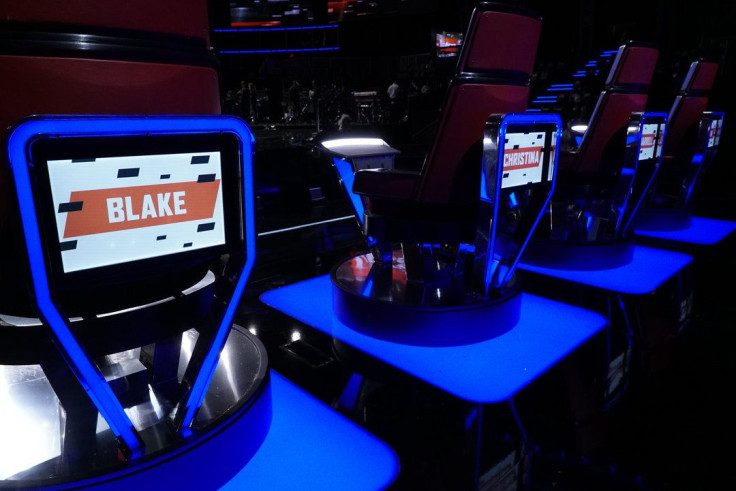 "The Voice" is always competitive, but the most recent performance episode was extra special as it gave the artists a chance to rally around a good cause. Still, that didn't mean there wasn't pressure for the remaining top 10 from having to battle it out for a chance to stay alive in 2016.
The episode opened with a visit from first lady Michelle Obama and Dr. Jill Biden, the wife of the vice president. They were there along with an audience full of men and women from the U.S. military and their families to promote their organization, Joining Forces, which seeks to find better support for service members, veterans and their families. After some kind words about both their organization and "The Voice" in general, the contestants performed together in a tribute to the U.S. forces.
After the pleasantries were done, the show continued on, giving the top 10 a stage to perform for America's vote. To help make sure potential voters have a gauge of how each performer did, below is a rundown of the top 10 from Monday's live show:
Daniel Passino, Team Pharrell
"Don't Want to Miss a Thing" by Aerosmith
This artist was down on himself after being kicked off, returning as a coach save and being in the bottom two last week. It took a lot of encouragement from his coach, Pharrell Williams, before he was able to bounce back and take on this emotional Aerosmith ballad. Passino said he felt like he had to face the reality that this might be his last time trying to win America's vote, so he chose something that he felt he could connect with. Sadly, when the time came for him to take the stage, although he was passionate, his vocals were nowhere near on par with some of his competition. Even the coaches had to awkwardly dance around the fact that Passino just wasn't up to the standards of "The Voice" top 10.
Shalya Fearing, Team Adam
"My Kind of Love" by Emeli Sandé
Although Laith Al-Saadi is a strong singer, Fearing is by far Adam Levine's best chance to win Season 10 and tie his rival Blake Shelton for most season crowns. When the time came to take the stage, she was miles above her predecessor, nailing both the emotion and vocals of the song. Fearing has a lot of talent, but has struggled to find a song that's in her particular wheelhouse. However, tonight she got closer, injecting some brazen attitude and self-confidence into her stage presence. For the first time, she seemed like an artist who isn't just fighting for a spot in the finals, but a spot in the music industry after the show.
Nick Hagelin, Team Xtina
"I Can't Help It" by Michael Jackson
After taking on a more acoustic song last week, Hagelin wanted to show America that he can step outside his comfort zone with the pop song. He's always played a bit with his falsetto, but his coach, Christina Aguilera, wanted to give him the chance to open up and learn how to use it properly during this performance, which he did. In addition to the experimental vocals, Hagelin proved he's got the entertainment value to be a real contender in these later rounds. Even though most of the song had him dancing while sitting in a chair, he was one of the more animated of the top 10 when the time came to sing. But the song required him to spend a lot of time in a high pitch, which he struggled with toward the end.
Hannah Huston, Team Pharrell
"Rolling in the Deep" by Adele
It's hard to fail with an Adele song, which makes choosing one as much of a risk as it is a strategic move. Luckily, this artist managed to nail it with a cover that was both proficient and unique to her. Some of the best covers on iTunes come from artists who manage to arrange a familiar tune with an incredibly original spin. Huston proved to be not just an effective singer, but a brilliant strategic mind at this late stage in the competition. Overall, hers was one of the stronger showings of the night, but that wasn't saying as much as it usually does since many artists seemed to be off their game.
Laith Al-Saadi, Team Adam
"The Thrill Is Gone" by B.B. King
This blues artist revealed that his father, whom he initially had difficulty explaining his career in music to, said he was thrilled when his work last week pushed him to the top of the iTunes charts. Given Al-Saadi's newfound popularity, coach Levine made the bold choice to lean into Laith's genre and pick a B.B. King song that would allow him to finally bring the blues to a national stage. Previously, his song choices were tame and somewhat related to pop or country, the typical genres that perform well on "The Voice." However, being more of himself ended up working like a charm as he not only appeared more comfortable onstage, but showcased his voice better than ever. And he absolutely crushed it on guitar the entire time. Essentially, this artist was playing with a hand tied behind his back all along. The only thing that might hold him back now are voters' natural predilection to move away from the blues.
Paxton Ingram, Team Blake
"It's All Coming Back to Me Now" by Celine Dion
After dominating the iTunes charts last week, Ingram decided to play it slow on Monday, going with a number that's right within his range. Similar to Huston, he played a great game this week by picking a popular song he knew he could rub his unique brand of vocals on and bait people everywhere into downloading it on iTunes, which would further propel him to the top 9. That's not to say it didn't require an astounding amount of talent to pull off. Ingram is nowhere near the bottom of the barrel in Season 10 and could very well take home the grand prize if he continues to ride this popularity with genuine performances.
Mary Sarah, Team Blake
"Stand by Your Man" by Tammy Wynette
Like everyone else, Mary wanted to make sure she wasn't taking any big risks before getting a better foothold in the finals. At the urging of her coach, she took on the classic country song — which had never previously been performed on the "Voice" stage — to showcase what she's all about. Although she meshes well with her coach, and has the benefit of being the last remaining female country artist left on the show, the artist struggled a bit. The song requires a good balance of upper and lower register, which she didn't have. The high notes came out, but she wavered during the song's ultra-important chorus. It wasn't bad, but it was also nothing to write home about.
Bryan Bautista, Team Xtina
"Promise" by Romeo Santos ft. Usher
It was important for Bautista to give a shoutout to his Latin roots, so he ran the risk of alienating a great deal of the audience by singing a song that is partly in Spanish. Fortunately, the singer's voice didn't waver, and it more than made up for the parts of the song in which a majority of the audience probably couldn't quite understand the lyrics. Overall, his performance was solid through and through. However, if there was a complaint it was with his blatant pandering to the crowd.
Alisan Porter, Team Xtina
"Let Him Fly" by Patty Griffin
Dedicating it to a man she previously dated, before his untimely death, Porter took on the emotional country ballad with a full heart and previously proven great vocals. Each week she finds a way to connect to her music and then come alive onstage like a mother getting a chance to let loose — which she is. Although she typically does better with songs that have a quicker pace, her connection with the music tends to make up for any deficits in her stage time. If she gets back to songs with more attitude and fun, she could very well win the whole thing in 2016.
Adam Wakefield, Team Blake
"I Got a Woman" by Ray Charles
The crowd clearly loved Wakefield. The song started out slow and they could be heard shouting throughout the silent portions. When it got peppier, Wakefield's voice didn't falter, but he simply didn't look like he was having much fun despite the song's upbeat nature. Still, the show is about finding the best singer of the season, and this artist is by far the most well-rounded and fully realized performer taking the stage each week. This episode saw a lot of favorites give a lackluster performance, but this artist remained consistent and delivered something worth recognizing on the show.
© Copyright IBTimes 2023. All rights reserved.