'The Voice' Season 7 Preview: Which Team Will Win? Winner Roundup [POLL]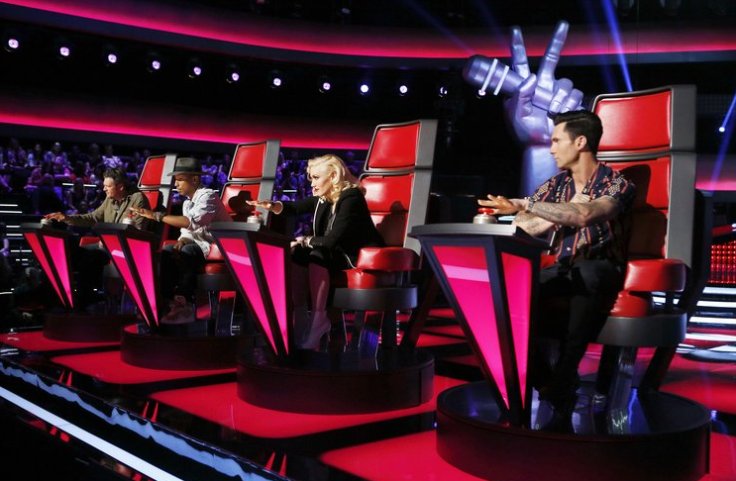 NBC's "The Voice" returns Monday, Sept. 22 for the popular singing competition's seventh season. The four celebrity coaches for the new season include veterans Adam Levin and Blake Shelton, as well as newcomers Gwen Stefani and Pharrell Williams. However, Stefani and Williams have some big odds to overcome if they want a contestant from their team to win it all this year.
The premiere episode will feature the shows unique blind auditions, where the four coaches listen to would-be contestants while turned away from them, hitting a button to face the auditioning contestant when they feel the person is good enough to advance. After the tryout is complete, the contestants choose from the coaches who turned around and join their team for the remainder of the season. The coaches advise their teams' contestants and try to ensure that one of them ends the season as the winner.
Stefani and Williams are new to the show and if they want someone on their team to win, they are going to have to beat out Levine and Shelton, who have combined to produce five out of the six winners from the show's first six seasons. Here are the winners from the first six seasons if "The Voice":
Season 1 – Javier Colon – Team Adam
Season 2 – Jermaine Paul -- Team Blake
Season 3 – Cassadee Pope – Team Blake
Season 4 – Danielle Bradbery – Team Blake
Season 5 – Tessanne Chin – Team Adam
Season 6 – Josh Kaufman – Team Usher
Only in the most recent season did another judge manage to get a winner past Blake Shelton and Adam Levine. Despite Cee Lo Green (Seasons 1-3 and 5) and Christina Aguilera (Seasons 1-3 and 5, will return for Season 8) each appearing for four of the last six seasons and Shakira (Season 4 and 6) for two, none of them were able to produce a winning contestant. Usher has appeared in two seasons (Season 4 and 6) and became the first non-Blake or Adam judge to coach the winning contestant.
The odds are certainly stacked high against Gwen Stefani and Pharrell Williams with the coaches' popularity certainly playing a role in the fan voting, but they will get their chance starting Monday night to prove that they can coach the best singer. Season 7 of "The Voice" premieres Sept. 22 at 8 p.m. EDT on NBC. Watch a promo for the coaches of Season 7 below:
Which coach's team do you think will win Season 7 of "The Voice?" Answer below and tweet your thoughts to @Ja9GarofaloTV.
© Copyright IBTimes 2023. All rights reserved.