'The Voice' Season 8 Spoilers: The Controversial Top 12 Eliminations Send 2 Great Artists Home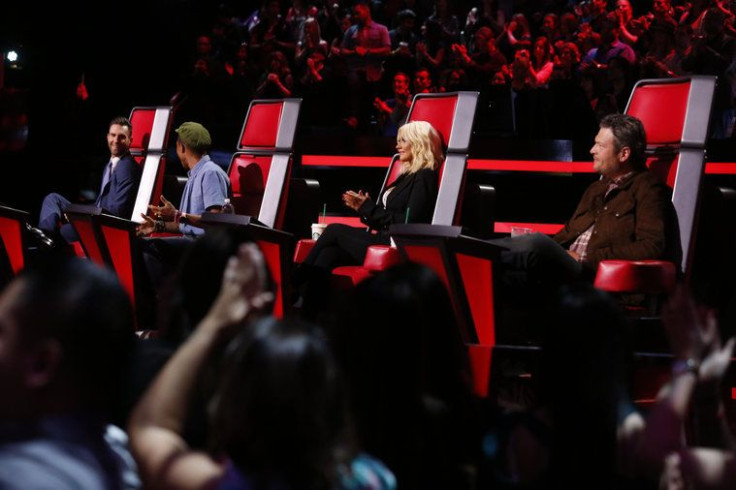 After "The Voice" Top 12 swung for the fences during Monday night's live performances, their fate was in America's hand as two contestants had to go home on Tuesday. The Top 10 were revealed last night for Season 8 in an unexpected elimination.
Host Carson Daly has been warning fans for weeks that the future of the show will be in the hands of the viewers, and last night that finally happened. Coaches Blake Shelton, Christina Aguilera, Pharrell Williams and Adam Levine could only sit and watch as the voting public threw some of their best contestants to the dogs.
The night began on a high note for three of the most consistent artists in the competition. Daly announced that they broke the iTunes Top 5 charts, which gave them enough votes to automatically advance.
Team Xtina's Kimberly Nichole moved forward first after an impressive and powerful show on Monday. Pharrell's ace in the hole, the 16-year-old folk artist Sawyer Fredericks advanced next, followed by Team Blake's expert performer Meghan Linsey. For anyone who has been paying attention to the show to date, there were no surprises here as the Top 3 have been some of the best performers on the show.
After a performance of "In the Midnight Hour" from Blake Shelton and his team, the next three contestants to advance to the Top 10 were revealed. Not surprisingly, Team Xtina's Inda Carney moved forward. It was previously mentioned that she's the only one in Season 8 able to give Nichole a run for her money, so seeing her advance was important. Joining her were Team Blake's most impressive and ridiculous performer Hannah Kirby and Team Adam's first top 10 advancement of the night, Joshua Davis.
Next up, Christina Aguilera took the stage with her team to sing "Hotel California." As The Hollywood Reporter notes, the performance really felt like the best of the night as it showed off the versatility and consistency of Team Xtina. She's heavily favored to win Season 8 right now.
From there, three more contestants were brought forward. Team Pharrell's Koryn Hawthorne advanced, along with Team Xtina's Rob Taylor and Blake's country-leaning singer Corey Kent White. TV Line notes that the show might be suffering the same voting problem it had in the Season 7 when Craig Wayne Boyd took the big win. Since White is the only country singer on the show, he's getting 100 percent of the votes from "The Voice's" country fans. He's not a terrible performer, but he's not yet worthy of the fan base he's got.
This meant Team Pharrell's Mia Z and Team Adam's Brian Johnson and Deanna Johnson had their heads on the chopping block. Only one could be saved so it came down to America's Instant Save on Twitter. Viewers had a brief window to tweet their saves while the three performers grabbed a microphone and sang their hearts out to save their own skin. In the end, after a rocky and nervous performance on Monday, America felt like Deanna Johnson pulled herself together and advanced her to the Top 10. It was a controversial decision as Johnson is one of the worse singers in Season 8 due to her stage fright. Meanwhile, Brian Johnson and Mia Z have put on performances in the past that were worthy of winning the whole show. Unfortunately, they gave mediocre shows on Monday and that was their undoing.
As we gear up for next week's intense Top 10 performances, below is a rundown of the remaining contestants.
Team Pharrell
Koryn Hawthorne
Sawyer Fredericks
Team Xtina
Kimberly Nichole
India Carney
Roby Taylor
Team Blake
Hannah Kirby
Corey Kent White
Meghan Linsey
Team Adam
Deanna Johnson
Joshua Davis
© Copyright IBTimes 2023. All rights reserved.