'The Voice' Season 8 Spoilers: Dramatic Eliminations Reveal The Top 5 Finalists For 2015 [RECAP]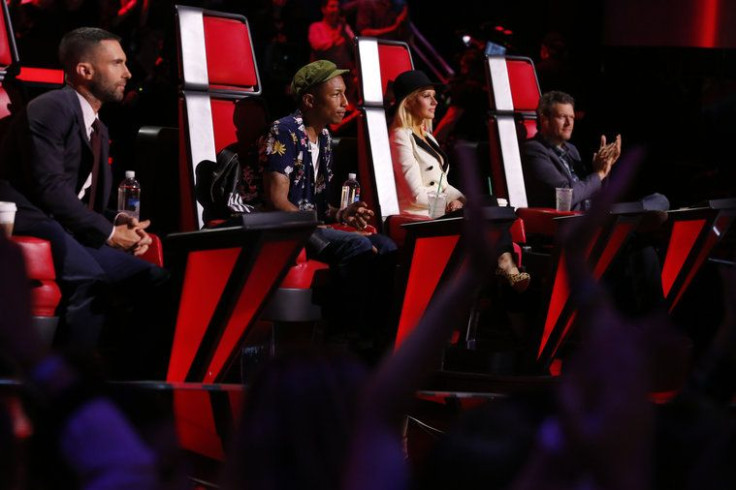 As the artists on NBC's "The Voice" continue to innovate and reinvent themselves, it's never fun to see someone's journey cut short." Unfortunately, one of the top six contestants on Tuesday night's show could not continue on.
It was alumni night as a cadre of the show's previous powerhouse singers returned to the stage to perform original music and sing fan favorites. Meanwhile, the top six contestants were fresh off a night of difficult live performances and were waiting to hear their name called.
The first of the top six saved came as absolutely no surprise. After taking on a fast-paced rock song in his second performance, America pushed Team Pharrell's Sawyer Fredericks ahead to the next round.
Next onstage was Season 3 artist Avery Wilson. If you don't remember him, you're not alone. Wilson didn't even make it past the knockout rounds during his time on the show, but the 16-year-old moved on and became a social media sensation, according to Yahoo Music. He sang a new song, "If I Have To," from his upcoming album.
From there, the remaining five unsaved artists took the stage, and the tension was palpable. After an awkward question-and-answer session, host Carson Daly read the name of the next contestant who would move on to the coming week, Meghan Linsey. She gave two back-to-back performances last night that were flawless and bold. With Linsey and Fredericks having made it to the next round, all the no-brainers had made it to the safe zone.
Next, Season 1 third-place contestant Vicci Martinez sang "Bad News Breaker" from her new album, "I Am Vicci Martinez." She broke some of the tension lingering from the announcement of Linsey's save, and then it was time to see who the bottom three were. Koryn Hawthorne made it through next after singing two rock-slanting songs.
It wasn't looking good for Adam Levine's remaining contestant, Joshua Davis, or Team Xtina's Inda Carney and Kimberly Nichole. Before anyone passed out from the stress, "The Voice" brought in a ringer. Last season's country-singing winner, Craig Wayne Boyd, returned to the stage to sing his newest single, "I'm Still Here." His performance was so good that it was almost possible to forget how high the stakes were for the remaining three.
Once Boyd's time was up, Joshua Davis was sent ahead to safety, leaving the live-save playoffs in a dead heat between resident Season 8 divas Kimberly Nichole and India Carney.
Carney took the stage first, singing Pink's "F-----' Perfect." She was in the bottom three last week and in the bottom two this week, which is surprising, since the young, classically trained a cappella singer is among the show's best powerhouse singers. She has superstar potential, and she proved it last night, knocking her final save song out of the park. Still, after two weeks of coming up short, her confidence had to be a little rocked.
Kimberly Nichole took the stage next. She chose to sing The White Stripes' "Seven Nation Army." For an artist who's had more success with salty than sweet in the completion round, she chose a haunting melody with a lot of attitude, a song right in her wheelhouse. In the end, it was a dead heat between these two battling performers.
Host Daly revealed that last week's margins had been the closest yet, and this week he told the audience that the votes were literally 50-50 with 25 seconds to go. In her second tight win of the competition, Carney moved on to the next round, leaving Kimberly Nichole's journey at an end.
"The Voice" returns with the top five performers Monday night at 8 p.m. EDT.
© Copyright IBTimes 2023. All rights reserved.