'Walking Dead' Creator Robert Kirkman Reveals Why He Stepped Away From The 'Transformers' Writers Room [VIDEO]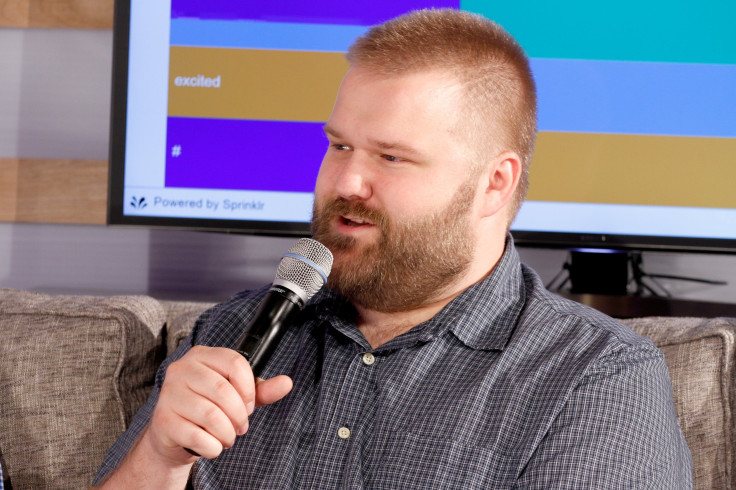 Although "The Walking Dead" and "Transformers" don't feel like they have a lot in common, they almost had one very vital person to connect them. Sadly for fans of either franchise, that link is gone now that the creator of the popular AMC zombie drama has reportedly walked away from the writers room of the next "Transformers" film.
Speaking at the South by Southwest (SXSW) festival in Austin, Texas, "The Walking Dead" creator, Robert Kirkman, was asked about his role in future "Transformers" movies after it was announced that he joined the highly talented crop of writers tapped to expand the franchise. That's when he revealed that he had stepped away from the project shortly after it began. Kirkman's star is on the rise thanks to "The Walking Dead," "Fear the Walking Dead" and his new Cinemax show "Outcast." As a result, it may seem like he turned his back on the ailing science fiction franchise, but that's not the reason he left.
In July 2015, Kirkman wrote an apologetic blog post to fans in which he expressed his regret that he would need to miss his first Comic-Con in 10 years due to an unexpected throat surgery. It turns out that this procedure not only came at a bad time for his Comic-Con schedule, but for his "Transformers" writers room schedule as well. In the video below, Kirkman admits to Collider that he was only present in the room for one day before he had to, respectfully, step away from the project.
Although it won't have Kirkman's voice in it, The Wrap notes that the producers have stacked the deck with some pretty impressive talent including "Iron Man" screenwriters Matt Holloway and Art Marcum, "The Amazing Spider-Man 2" writer Jeff Pinkner and "The Incredible Hulk" writer Zak Penn. In October 2015, Hasbro Studios president Steven Davis spoke at the Mipcom convention and revealed that the company is hoping to expand its film universe similar to the way Marvel has. In a video, he revealed that not only will "Transformers 5" happen, but the studio has plans for the next 10 years including parts six, seven and eight. According to The Verge, the studio also has plans to expand "Transformers'" presence in the TV and digital mediums as well.
While it's unfortunate that Kirkman can't be a part of the franchise, especially given the fact that he's a self-proclaimed "Transformers" fan, he did reveal that his brief time in the writers room made him privy to some information about the project and he tells fans that they should expect some "amazing 'Transformers' things coming."
© Copyright IBTimes 2022. All rights reserved.
FOLLOW MORE IBT NEWS ON THE BELOW CHANNELS