'Walking Dead' Season 4 Spoilers: Sneak Peek Video Shows Michonne In Danger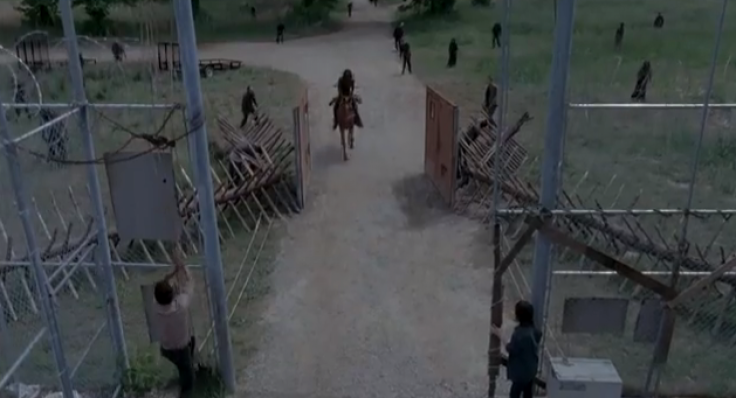 "Walking Dead" fans were treated to an extremely short sneak peek of season four on Sunday, and while it may not have satisfied the walker hunger brewing inside viewers, it was definitely a fun treat!
The new season of the hit AMC zombie show isn't set to premiere until Oct. 13, but the network decided to reward patient fans with a special look during the third episode of their new original series, "Low Winter Sun." Starring Lennie James, who played "Walking Dead" fan favorite Morgan, the sneak peek during a commercial of his new show was a perfect fit.
So, what happened in the special first look scene?
The group is still at the prison and Carl is on watch outside. Michonne comes riding up to the prison gates on a horse (who knows where she got it), and Carl opens up the rig to let her in. But in a world with zombies nothing is ever as easy as opening up a door.
Jumping off her horse, Michonne is immediately attacked by not one walker – but two. Using both her hands to fend them off, Michonne is unable to grab her katana sword.
The first look sneak peek ends with Carl running up to the fence, and Maggie looking on in horror from the prison watchtower.
What did you think of the first look clip of "The Walking Dead"? Let us know in the comments section!
© Copyright IBTimes 2023. All rights reserved.