'Walking Dead' Season 4 Spoilers: Watch The Governor Confront Rick In New Sneak Peek Video From The Mid-Season Finale, Episode 8 [VIDEO]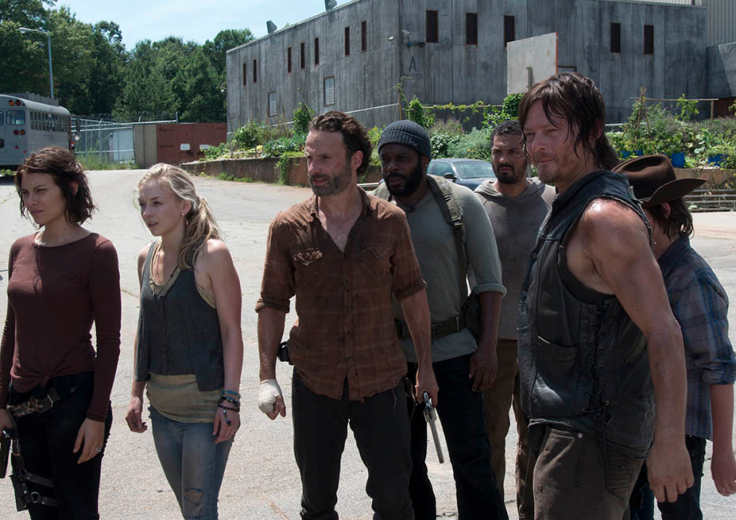 WARNING: "WALKING DEAD" SPOILERS AHEAD!
Were you bored while watching the last two episodes of "The Walking Dead?" Well, you definitely won't want to miss this week because the mid-season finale looks EPIC.
As we previously reported, the Governor is going to convince his new band of survivors that they need to commandeer the prison. And unfortunately he's going to resort to some of his old Woodbury tactics to make that happen – kidnapping.
During season 3 it was Maggie and Glenn who had the misfortune of ending up in the Governor's hands, but thanks to a new sneak peek video of episode 8, we know that this time the two unlucky prison survivors are none other than Michonne and Hershel.
The leaked video reveals the Governor and his crew (armed with some heavy weapons and a tank) at the prison fence, guns aimed at Michonne and Hershel as the guard tower burns besides them.
"Let him go, right now," Rick says to the Governor about Hershel as he makes his way down to the fence. "You got a tank. You don't need hostages."
But the Governor does need the hostages because he has no plans to "blast a hole" in his "new home."
"You and your people, you have until sundown to get out of here," he tells Rick. "Or they die."
Rick tries to reason with the Governor, explaining that they have sick children inside that won't survive outside the prison walls. But the Governor doesn't care what Rick has inside the prison because he has more people, more firepower … and claims that his group just flat out needs the prison.
"I have a tank and I'm letting you walk away from here," the Governor warns one last time as his fellow survivors look wary. "What else is there to talk about?"
Will the Governor kill Hershel and Michonne? Will Rick and the group flee the prison? You'll have to wait and see when the mid-season finale of "The Walking Dead" airs on AMC on Sunday at 9 p.m. EST. Watch the sneak peek video of episode 8, "Too Far Gone," below and let us know what you think in the comments section.
The Walking Dead - 4x08 " Too Far Gone" : Sneak...
by Llegaronparaquedarse
© Copyright IBTimes 2023. All rights reserved.