'Walking Dead' Season 5 Spoilers: Episode 16 Synopsis Released Online; Season Finale Photos And Videos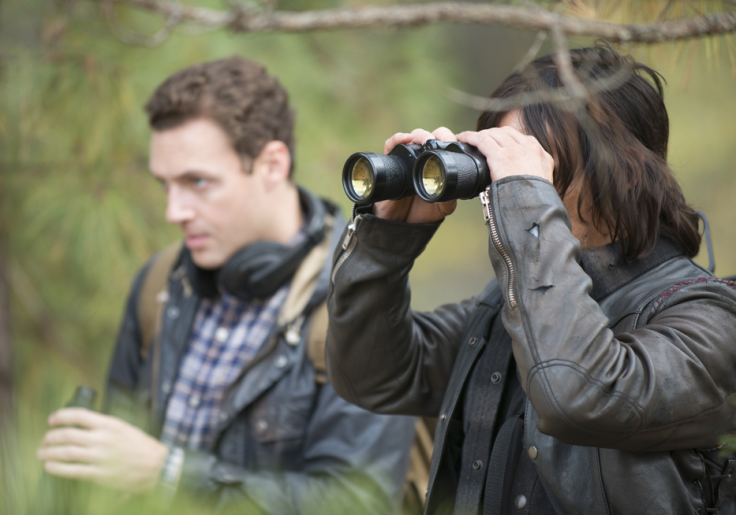 We've got good news and bad news for fans of "The Walking Dead." The good news is that episode 16, titled "Conquer," will run for an hour and a half instead of the usual hour. The bad news is that it's also the Season 5 finale, which means that Rick (Andrew Lincoln) and the gang won't return until the fall -- assuming they survive the all drama this Sunday.
According to the synopsis for episode 16, trouble is brewing all around. Thanks to Rick's antics in episode 15, his group of survivors will be on the outs with the Alexandria people. They'll "feel like outsiders," and for good reason. Although Pete (Corey Brill) was abusing his wife, Rick took things a bit too far by getting into a physical fight with the town doctor. To make matters worse, he also pulled a gun on Alexandria leader Deanna (Tovah Feldshuh) when she attempted to defuse the situation. Michonne (Danai Gurira) was able to knock Rick out before things escalated, but the damage was already done. After Father Gabriel's (Seth Gilliam) confession about Rick's group being bad people and Aiden's (Daniel Bonjour) death in episode 14, it looks like Deanna and the rest of Alexandria is beginning to regret letting the survivors in.
Will Rick's crew be exiled from Alexandria? As Deanna warned them previously, it has happened before. But, unfortunately, there will be other issues to attend to during the Season 5 finale.
The episode description indicates Daryl (Norman Reedus) will find "trouble while on a run." "Walking Dead" fans will remember that Daryl and Aaron (Ross Marquand) last week saw signs of human life while outside the Alexandria walls. However, the next day when they went to investigate, they came across two mutilated bodies -- one chopped into pieces and the other a woman who was tied to a tree and gnawed on by walkers. The letter "W" was carved into her forehead. Will Daryl and Aaron finally come face-to-face with the group responsible for the mutilations? And do they have an explanation?
Finally, "Walking Dead" viewers can look forward to some action when "trouble approaches the gates." Trouble could be referring to a couple of things: walkers or humans.
Watch the drama unfold when "The Walking Dead" Season 5 finale is shown on AMC Sunday, March 29, at 9 p.m. EDT. Stick around for "The Talking Dead" finale to catch the first trailer for the spinoff series, "Fear the Walking Dead."
© Copyright IBTimes 2023. All rights reserved.