'Walking Dead' Season 5 Spoilers: Norman Reedus Calls Fifth Season 'Insane'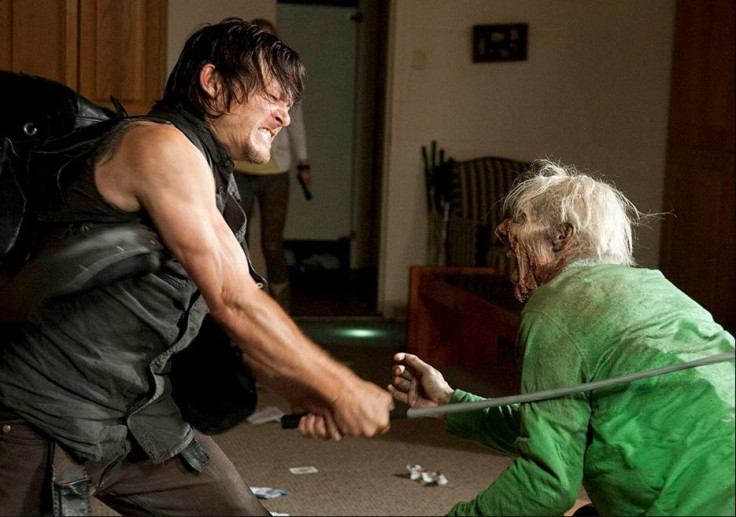 Are you patiently waiting for "The Walking Dead" to return to AMC in October? Join the club! The cast and crew are currently prepping to begin filming for the highly anticipated fifth season, and Daryl's Norman Reedus was kind enough to dish out some Season 5 scoop for his hungry fans.
"From what I know, it's gonna be just completely insane," Reedus revealed to Entertainment Weekly. "I sort of knew I needed like a good month to rest to jump in. The storyline they're throwing me is a thousand miles an hour."
While the reference to an "insane" fifth season is definitely exciting, the actor didn't actually reveal too much about the upcoming drama. However, his comment did play off of what "Walking Dead" showrunner Scott Gimple said in a recent interview.
"Things are going to have a much different tone and a much different practical reality moving forward," Gimple cautiously revealed on "The Walking Dead 'Cast" podcast. "The season has a number of shifts of location, and even of a tone. But the tone for the most of the season is very, very, very intense."
Could the "insane" and "intense" new season possibly have to do with not only walkers but cannibals as well? Theories about cannibals appearing on the AMC series surfaced during the final episodes of Season 4 when the prison survivors started arriving at Terminus.
Fans will remember that everyone was greeted by Mary, a Terminus resident who seems to stand only behind their large grill. The worn out survivors were offered a plate full of food, which was suspicious because the series took the previous few episodes to focus on how difficult it had become to catch fresh meat. But what really had viewers on high alert was the pile of bones and organs that the camera panned by in the middle of the Terminus grounds.
Cannibals at Terminus was never confirmed. However, E! News did reveal in mid-April that "Rick and Co. are going to be recruiting as many people as possible in order to get revenge on those man-eating freaks who run Terminus."
What do you think Daryl and the others will come across in Season 5 of "The Walking Dead"? Let us know your thought and theories in the comments section or send a tweet to @AmandaTVScoop.
© Copyright IBTimes 2023. All rights reserved.