'Walking Dead' Season 5 Spoilers: Top 11 Moments From Episode 13; New Rick Love Interest, Scary Carol And More [RECAP]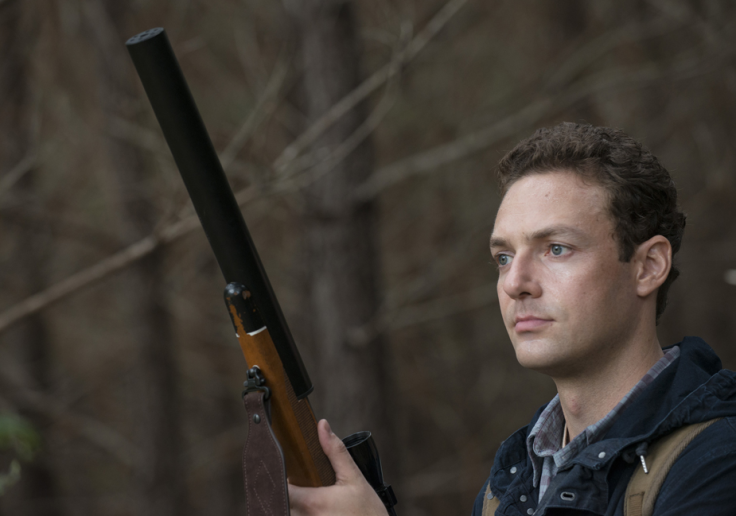 Sometimes we all go a little crazy sometimes … Episode 13 of "The Walking Dead" aired Sunday night, exposing the problems within the group now that they're safely behind the wall of Alexandria. Although their new home had chocolate, alcohol and a place to sleep in, adjusting to a "normal" life was proving to be difficult for some members. Check out the top 11 moments from episode 13, "Forget":
1. New Game Plan
Like last week suggested, Rick (Andrew Lincoln) had other plans for Alexandria. Recognizing it as a safe place for Carl (Chandler Riggs) and baby Judith, Rick knew that he had to make it work. But he wanted their new home to be under his leadership. He met up with Carol (Melissa McBride) and Daryl (Norman Reedus) outside the shack where he hid his gun in the blender – the same gun that mysteriously disappeared. The three knew that the people of Alexandria were the "luckiest damn people," and they also knew that that luck couldn't last. In order to be safe, they hatched a plan to infiltrate the community by playing along – but steal weapons for protection.
Before they could head back to the wall, they ran into a walker. While it didn't seem out of the ordinary, it had a "W" carved on its forehead – just like the walkers that were at Noah's (Tyler James Williams) old compound.
2. A New Bromance
Daryl likes his freedom, but he can't escape Alexandria. While exploring the woods he ran into Aaron (Ross Marquand). Although initially annoyed by Aaron tagging along, the pair quickly bonded over a wild horse named Buttons. Unfortunately, walkers got to Buttons before they could catch him. But both Aaron and Daryl saved each other lives once over the course of the afternoon.
3. Deanna's Dream
Deanna (Tovah Feldshuh) isn't just trying to keep a community alive – she's trying to build a new world. With Rick and Michonne (Danai Gurira) the start of her police force, she enlisted Maggie to work alongside her. The goal is to build a government, but Rick has his demands. Knowing what kind of people are outside the wall, Rick was appalled to discover that Alexandria had no lookout in the clock tower.
Sasha (Sonequa Martin-Green) appeared out of nowhere and volunteered to take the shift 24/7. But Deanna saw Sasha's crazy eyes and told her that her son Spencer (Austin Nichols) would handle it.
And yes … Spencer is Julian Baker from "One Tree Hill."
4. Meet Tobin
Carol might have a love interest on her hands. She's been playing the "invisibility" card by pretending to be a helpless "den mother." While Rick's group know what she's capable of, the people in Alexandria think that she doesn't know how to protect herself. Tobin (Jason Douglas), a middle-aged man, volunteered to teach Carol how to shoot a gun. Little does he know, but Carol could probably teach him a thing or two.
5. Meet Reg
"Walking Dead" viewers finally met Reg, Deanna's husband. He's the one responsible for creating the wall surrounding Alexandria, but he was more impressed with Rick for protecting such a large group of people.
6. Daryl's Job
Last week Deanna admitted that Daryl stumped her. While she assigned everyone a job, she was still trying to figure out Daryl. Turns out that Aaron was the one to figure him out. Inviting him over for spaghetti dinner with Eric (Jordan Woods-Robinson), Aaron showed Daryl a motorcycle that the home's former owner was working on before the apocalypse. He offered it to Daryl and asked him to take over as a recruiter for Alexandria. Aaron didn't want Eric risking his life anymore, and knew that Daryl could tell the difference between a good person and a bad person. Daryl accepted, telling Aaron that he's got "nothing else to do."
7. One Of Us
Jessie's (Alexandria Breckenridge) husband was sporting an "A" stamp on his hand – and Rick got one of his own by the end of the night. While at a party at Deanna's house, Jessie's young son stamped Rick's hand and said that he was now "one of us."
8. Carol's Bedtime Stories
While everyone was at Deanna's house, Carol snuck out to steal guns from the locker. Although she thought she was "invisible," Jessie's young son followed her. Fortunately she didn't tell him to "look at the flowers." But she did give him a pretty frightening threat when he said that he was going to tell his mom.
"If you do, one morning you'll wake up and you won't be in your bed," she warned him. "You'll be outside the walls, far, far away, tied to a tree. You'll scream and scream because you'll be so afraid. No one will come to help because no one will hear you. Well, something will hear you. The monsters will come, the ones out there, and you wont be able to run away when they come."
She added that they would eat him alive while he could still feel it, and that no one would ever find him. But she did offer him an ultimatum.
"Or you can promise not to tell anyone what you saw here and nothing will happen and you'll get cookies … lots of cookies," she promised.
9. A Kiss
When was the last time anyone thought about love on "The Walking Dead"? Although relationships have existed, this is the first time that Rick has expressed interest in a woman since the death of his wife. After having a discussion with Jessie about life inside the walls, he kissed on the cheek. She was taken back, but Rick showed no regret.
10. Sasha's Meltdown
Sash's appearance at Deanna's party did not help her. Although she put in an effort to show up, she couldn't handle the situation of the party. When a woman asked her about her favorite meal, Sasha couldn't answer. The woman continued that she was worried about making Sasha something she wouldn't like, and that was the final straw for her.
"That's what you worry about?" Sasha yelled, disrupting the party.
She left before causing any other problems, but Deanna called her out the next day. Sasha told her that Alexandria "isn't real." Deanna told her that was "bulls---."
11. Another New Game Plan
Rick, Carol and Daryl met up at the blender shack after the party. Carol had the guns like they discussed, but Rick and Daryl weren't as gung-ho about their initial takeover plan.
"Look, I've been thinking, do we really need these?" Daryl asked, saying that they really only need to take action if things go bad.
Carol and Rick didn't say anything, but Rick hesitated before grabbing his weapon from Carol.
© Copyright IBTimes 2023. All rights reserved.