'Walking Dead' Season 5 Spoilers: Who Will Die In The Season Finale? Episode 16 Predictions And Theories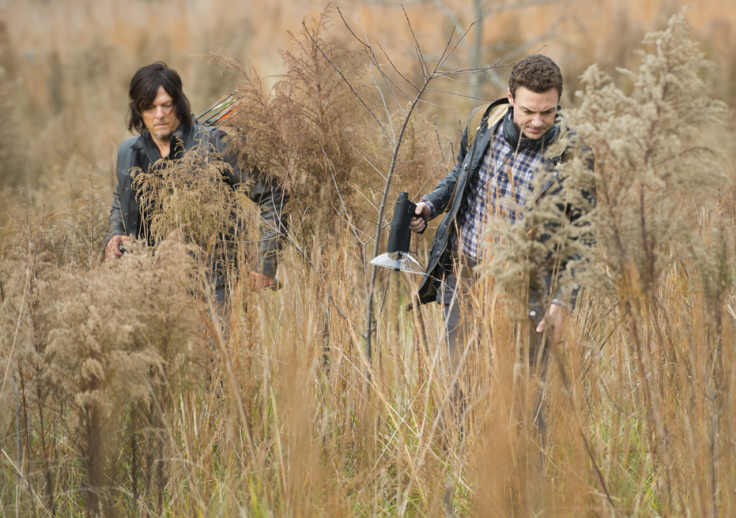 "The Walking Dead" certainly has had its sweet moments over the years -- like Glenn (Steven Yeun) and Maggie's (Lauren Cohan) engagement, and Rick's (Andrew Lincoln) reunion with baby Judith. But don't expect the Season 5 finale of the hit AMC series to end on a happy note. According to executive producer Gale Anne Hurd, episode 16 of "The Walking Dead" will end with some heartbreak.
Hurd spoke with Entertainment Weekly and revealed what fans already know -- both walker and human "blood will be spilled." But that doesn't mean that the final episode will be predictable. "There will be a few surprises and some sad losses that no one, I think, will be able to predict," the EP teased.
Only a few hours remain until fans get to feast on the season finale drama, but until then we've compiled a list of predictions and theories about who will die by the end of episode 16:
1. Glenn
Rumors have been circulating for months that original character Glenn won't make it out of Season 5 alive. He managed to dodge a bullet while out on a run for Alexandria, but will his luck run out in the finale? In the comics Glenn dies at the hands of Negan, the leader of a group of humans called the Saviors. The villain has yet to be introduced in the AMC TV show, and doesn't appear in the comics until Issue 100. Currently the series is right between Issues 73 and 80 … which means that it wouldn't be that far of a jump for the new character to show up and wreak some havoc.
2. Daryl
Actor Norman Reedus is reportedly selling his Atlanta home. Although people move all the time, viewers are worried that this news means that his character, Daryl, will be killed off.
A definite fan favorite, Daryl has proved that he has the ability to take care of himself and survive on his own. However, it looks like the crossbow-wielding survivor might run into some trouble in episode 16. While Rick causes problems within the walls of Alexandria, Daryl is on the outside with Aaron (Ross Marquand). The two men stumbled across two mutilated bodies in episode 15, and the group responsible for the actions is somewhere in the vicinity.
3. Tara
Tara (Alanna Masterson) is not in good shape. The character survived the blast of the grenade from the walker that Aiden (Daniel Bonjour) accidentally shot, but she still needs a lot of medical attention. Since Pete (Corey Brill) is now on the outs with Rick's group, he could potentially stop helping her or kill her on purpose as payback. If this happens, a great twist would be Tara turning and attacking the folks in Alexandria.
4. Deanna
Deanna seems to want Rick exiled from Alexandria -- but will Rick or his group let her? Both leaders are fearless and won't back down from a threat. Right now, Deanna is Rick's biggest threat -- not only because she could kick him out, but because she won't do what's necessary to protect the safe zone from outsiders. In order to gain control of Alexandria, Rick or Carol (Melissa McBride) might decide to kill her.
Another theory could relate to the comics. In the graphic novels, a man named Douglas runs Alexandria. His wife is killed at the hands of Pete, who goes a bit crazy after his fight with Rick. Although the AMC series doesn't follow the comics exactly, Pete might kill Deanna.
"The Walking Dead" Season 5, episode 16, will air on AMC at 9 p.m. EDT Sunday, March 29. Who do you think will die in the Season 5 finale of "The Walking Dead"? Tweet your thoughts to @AmandaTVScoop and take the poll below:
© Copyright IBTimes 2023. All rights reserved.