'Walking Dead' Season 6 Spoilers: Expensive New Plot Twists For Fall Return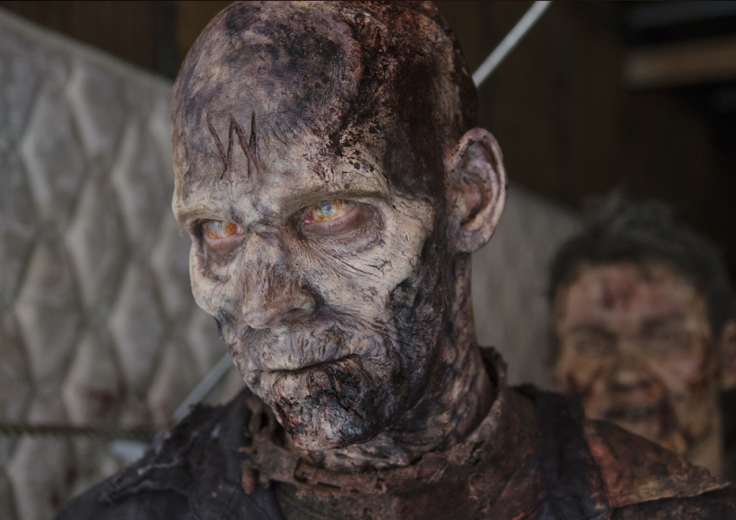 Is your jaw still on the ground after the mind-blowing Season 5 finale of "The Walking Dead"? Join the club. Episode 16 of the AMC series was shown Sunday night, killing off two characters and introducing a new threat to Alexandria.
The entire episode was jam-packed with drama, and one of the biggest moments of the finale came within the first few minutes when viewers learned a little bit more about the "W"-marked walkers. Season 1 character Morgan (Lennie James) resurfaced and was confronted by one of the men responsible for the mutilations. He revealed he was one of the so-called Wolves -- survivors who were taking back the area.
While it was definitely a big revelation, the biggest setup for next season came at the end of the episode when the Wolves found Aaron's (Ross Marquand) backpack with photographs of Alexandria. It looked like the new villains were going to be headed toward the safe haven -- and at a very unfortunate time. Rick (Andrew Lincoln) had just made a passionate plea about being more prepared for threats, when Pete (Corey Brill) showed up and accidentally cut Reg's (Steve Coulter) throat. Morgan then arrived in time to see Rick shoot Pete in the head at Deanna's (Tovah Feldshuh) request.
So, what's next for Rick (Andrew Lincoln) and the others? Executive producer Gale Anne Hurd spoke to Entertainment Weekly before the Season 5 finale and dropped a couple of hints about what fans can look forward to in the fall.
While Hurd didn't reveal any plot details for Season 6, she did say "The Walking Dead" writers have already "pitched out eight episodes." If the series maintains its 16-episode order for next year, this means the writers already have an idea of where the characters will be around the time of the midseason finale in December.
"It is going to be quite the roller coaster," Hurd teased. But that's not the juiciest part of her Season 6 scoop. Hurd added that the show's line producer, Tom Luce, has been "pulling out his hair" over the episode pitches.
Why should Luce's hair pulling/anxiety mean anything to "Walking Dead" fans? A line producer's job is to manage the budget of the show. This could mean that the series will be either adding more characters -- thus incurring the expenses associated with more people on the payroll -- or featuring more over-the-top action and special effects.
As showrunner Scott M. Gimple revealed in a letter to fans on "The Talking Dead," the series during Season 6 will "reinvent" itself and feature some of the show's "most ambitious stuff yet." He promises that things will get "big, loud and scary."
What do you think will happen in "The Walking Dead" Season 6? Tweet your thoughts to @AmandaTVScoop.
© Copyright IBTimes 2022. All rights reserved.
FOLLOW MORE IBT NEWS ON THE BELOW CHANNELS