'Walking Dead' Season 6 Spoilers: Robert Kirkman Reveals Where The Midseason Premiere Will Pick Up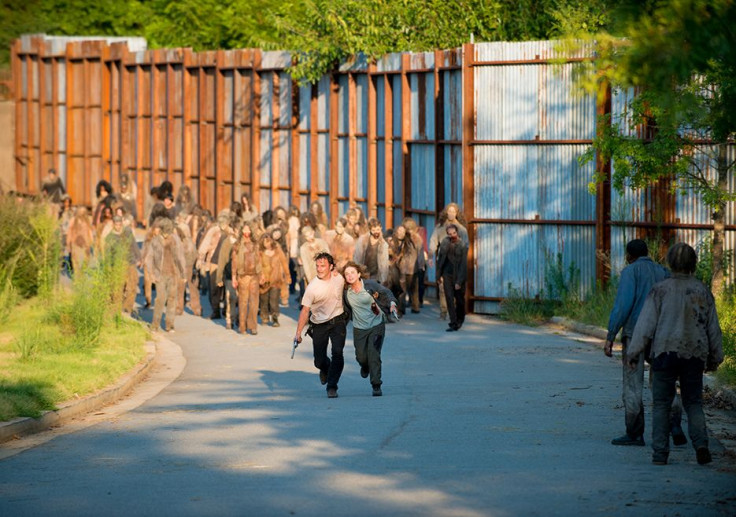 With just weeks to go before "The Walking Dead" returns to AMC for the back half of Season 6, fans have already been treated to a few hints about what to expect when Rick Grimes (Andrew Lincoln) and company show up again. According to the series' creator, fans will be dropped right back into the middle of the action during the Feb. 14 midseason premiere.
Speaking to Entertainment Weekly, show and comic book creator Robert Kirkman discussed where the characters will be after the midseason finale left things on such a fantastic cliffhanger. For those that don't remember [SPOILER ALERT] the Alexandria safe zone had been overrun by zombies after an attack from the Wolves weakened its protective walls. With our intrepid survivors scattered to the wind, the last time we saw some of our key heroes they were covered in zombie guts trying their best to avoid being detected by the horde.
"Yeah, we actually don't get back to that for seven episodes or so. It's going to be quite a cliffhanger," Kirkman told the outlet. Fortunately, he quickly confessed that he was just joking. "We pick up right in that moment. Alexandria is overrun. Rick and the kids are all covered in guts trying to get through the crowd. Everyone is where we last saw them, and things get worse from there."
It looks like the midseason premiere won't drag its feet revealing what viewers all want to know immediately, as has been the show's style in this season. However, following the very slow and drawn out first half of the Season 6, events and circumstance for almost every character have changed significantly, meaning the show will likely return with an entirely different tone.
As Deadline reports, the new tone and events have already been teased in the recently released promotional images for the upcoming episodes. The photos show never-before-seen locations and imagery of the survivors discovering "a larger world" than the one we've seen in the past on "The Walking Dead."
"This image gives a look at tiny pieces of a larger world our group is about to discover," executive producer and showrunner Scott M. Gimple told the outlet. "In the new world, they'll find hope, possibility, tragedy and the terrifying cost of change."
© Copyright IBTimes 2023. All rights reserved.