'Walking Dead' Season 7 Spoilers: New Negan Promo Video Might Reveal One Main Character Is Safe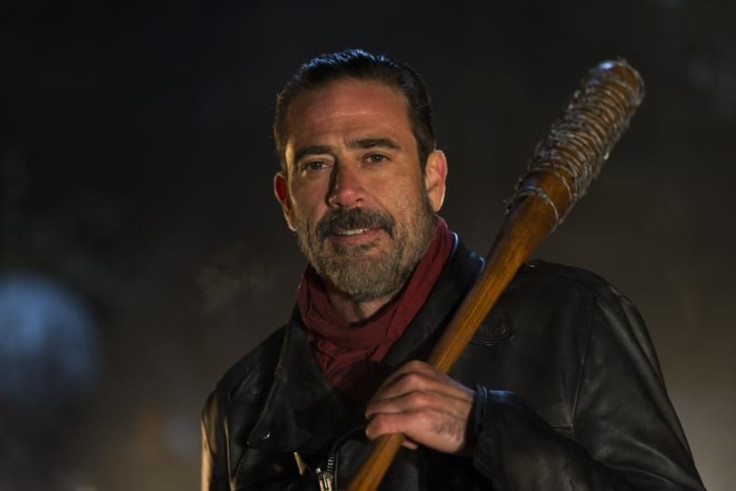 Fans are only a little more than a month away from knowing which "Walking Dead" character was on the receiving end of Negan's barbed-wire bat, Lucille, and to help them cope with the long wait AMC has released another short promo teasing Season 7. In the clip, posted on Twitter, it focuses mainly on Negan and his "rules."
"There are rules," Negan (Jeffrey Dean Morgan) says as the camera shows him standing with Lucille over his shoulder. "You earn what you take." The trailer then shows glimpses of different scenes, including a car chase and Negan banging his bat on a gate. The short teaser also shows a scene from the Season 6 finale when Negan swung his bat at one of the main characters. Of course, the new trailer still doesn't reveal which unlucky character it is, but eagle-eyed fans may have been able to rule out one "Walking Dead" character.
According to the Huffington Post, fans on Reddit believe they saw Abraham (Michael Cudlitz) fighting off zombies at the 21-second mark. However, other Reddit users aren't convinced and think it could just be a new character that's going to be introduced on the upcoming season.
It's highly unlikely AMC would reveal one of the character's fate in the trailer, especially since the show has gone to great lengths to keep everything such a close-guarded secret. On Tuesday, director and executive producer Greg Nicotero opened up about not spoiling the Season 7 premiere, telling Entertainment Weekly that the Season 6 finale scene was filmed on the set's backlot away from the public. "It's unfortunate," he said. "Because those people, their job is to ruin the show, and our job is to preserve the experience of the show. So we do have to spend a lot of energy and a lot of effort preserving the experience of watching the show."
Nicotero also said the show wanted to keep the character's death a surprise because it wouldn't have the same impact if it was revealed last season. "If we would have shown the deaths, then they wouldn't have felt our characters in Season 7 the way they need to," he explained. "And the thing that I think a lot of people will get out of it is how that moment changes the entire makeup of our universe within a split second. And it's in that moment that launches our entire Season 7 into that direction."
"The Walking Dead" Season 7 premieres Oct. 23 on AMC at 9 p.m. EDT.
© Copyright IBTimes 2023. All rights reserved.