'Walking Dead' Season 7 Spoilers: Who Dies? Predictions On Which Character Negan Kills In Premiere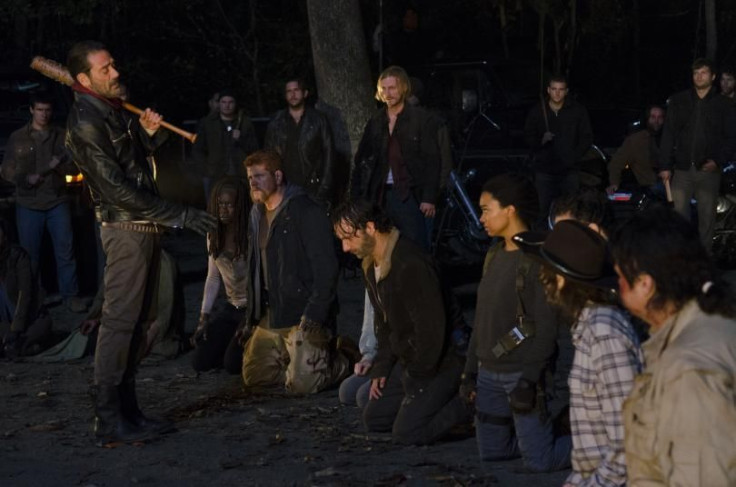 Fans of AMC's "The Walking Dead" already know that Rick is safe and won't be killed by Negan and his barbed wire bat, Lucille, in the Season 7 premiere. But what about the other characters Negan savagely made kneel on the ground in the Season 6 finale?
The show has kept the identity of Negan's (Jeffrey Dean Morgan) victim a close-guarded secret, but that hasn't stopped rumors and predictions from running rampant. The most obvious choice as Negan's victim is Glenn (Steven Yeun) because he's the one Negan chooses to kill in Robert Kirkman's comic books.
In issue 100, released in July 2012, Negan lines up Rick and his group in a semi-circle as retaliation for Rick killing some of his Saviors. After a sick game of "eenie meenie miney mo" Negan decides Glenn is it and brutally beats him to death with Lucille. However, just because Glenn died in the comic books doesn't mean he will face the same gruesome demise on the TV show. "The Walking Dead" is known for straying away from the comics, so there's still a good chance Glenn will be one of the survivors walking away from Negan's lineup.
Another name that keeps surfacing as Negan's victim is Daryl (Norman Reedus). In the Comic Con trailer that was released last month, Daryl's white blanket is seen on the ground next to what appears to be human remains. The Huffington Post also pointed out that in the trailer the victim's blood was splattered on the right side of Rick's face, and Daryl was one of the people lined up on Rick's right.
Maggie (Lauren Cohan) was also on Rick's right side, causing some fans to wonder whether Glenn's pregnant wife will be the one who dies at the hands of Negan. To further add to this rumor, fans posted online that they saw Maggie's engagement ring in the bloody pile of human remains. Cohan didn't help squash the rumor when she broke out in tears during the show's Comic Con panel in New York.
According to Bustle, when she was asked a question about her character Cohan responded by giving what some people a goodbye speech. "You guys have been on such a long journey with us. This is larger than our lives, this is larger than our show," she said. "This is such a privilege."
So, who else could potentially be Negan's victim? Another character being tossed around is Abraham (Michael Cudlitz). In the comics, Abraham doesn't even make it as far as he did on the TV show. The character was killed by taking an arrow to the eye, but that death scene went to Denise (Merritt Wever) earlier in Season 6. According to Comicbook.com, some fans think the show's producers kept Abraham around a little longer so his death could have a bigger impact.
While fans won't know who dies until the Season 7 premiere, Kirkman told the Hollywood Reporter that the episode is going to be extremely emotional and "gut-wrenching." He also dismissed rumors that Negan kills more than one character in the premiere.
"I don't know that our audience is necessarily bloodthirsty enough to be wanting to hear that there's another death. One death should be enough for this audience and one death will definitely have the affect that we're looking for. It will certainly set the stage for a very exciting season. It's to be a rough, rough, rough episode emotionally," he said. "Knowing what's coming and knowing what happens, it's really hard for me to watch. … It's a really gut-wrenching episode."
"The Walking Dead" Season 7 premieres Oct. 23 at 9 p.m. EDT on AMC.
© Copyright IBTimes 2023. All rights reserved.