'The Walking Dead' Season 8: Pollyanna McIntosh Teases Jadis' 'Allegiance' To Negan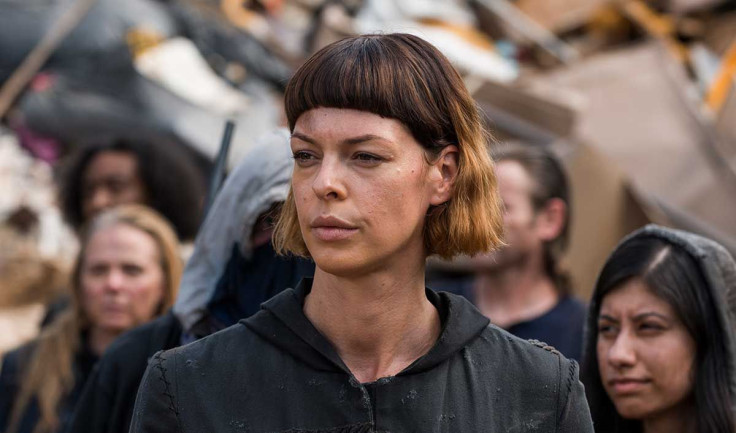 "The Walking Dead" Season 8 star Pollyanna McIntosh recently opened up about her character Jadis' fate in the upcoming episodes of the AMC drama.
In Season 7, Jadis, who is part of The Scavengers, pledged their allegiance to the villainous character, Negan (Jeffrey Dean Morgan), after securing a better deal with him than with Rick (Andrew Lincoln). But while speaking with Entertainment Weekly, McIntosh hinted on the fact that Jadis is not really supportive of Negan's plans.
"She certainly doesn't have respect and allegiance to Negan. I think that was pretty clear in the season finale the way that their conversation went down – that she doesn't, nor does she frankly, have any respect for her as far as the way he was talking about her and her group. So definitely out of the two she recognizes Rick's potential and that group's potential and she's seen what Rick can do, and she sees how cohesive they are," she explained.
Meanwhile, McIntosh also dished on the overall look and feel of Season 8 and said that it will be packed with action and will also be fast-paced. "The characters that we've grown to really love and understand, we're going to see them go through new situations where we're going to be with them all the way," she said.
McIntosh added that there will also be new challenges for the "heroes" of "The Walking Dead" Season 8. "It's going to be really satisfying because Season 7 I thought was wonderfully written, but it was much slower-paced than eight is and there was a lot of teasing towards the action, and now the dogs are off the chain. It's going wild," she said.
"The Walking Dead" executive producer Scott M. Gimple also told Comic Book that the characters in the series will be scattered throughout Season 8. "We knew we were going there, and there are aspects of this season that I won't tell you, but we're emphasizing because next season, especially the first half of next season, is going to be very, very different," he said.
"The Walking Dead" Season 8 will premiere on AMC on Oct. 22 at 9 p.m. EDT.
© Copyright IBTimes 2023. All rights reserved.