Wall Street Says Yahoo Inc. Is Worthless. So Why Are 7 Companies Scrambling To Buy It?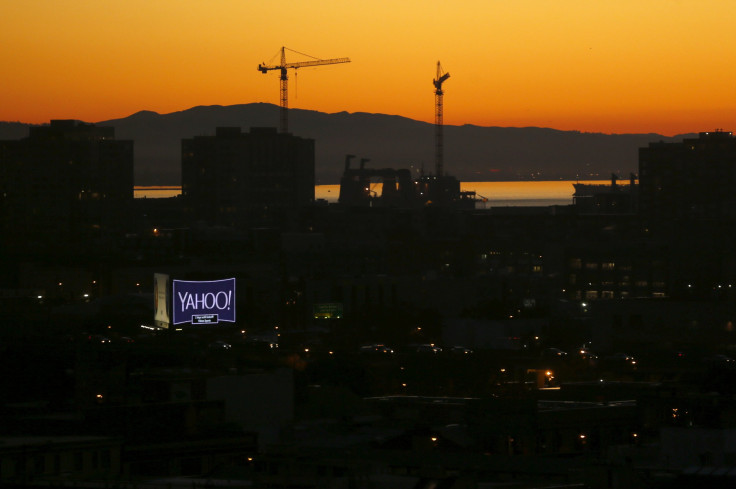 If you ask Wall Street, Yahoo Inc. is virtually worthless. But as the ailing web portal puts itself up for sale, at least seven major companies are vying to buy it, possibly for as much as $4 billion. Why? Deep in its garage-sale pile of unprofitable investments and slow-growth content properties, Yahoo has a hidden gem: its industry-leading advertising technology.
The collection of the software and services Yahoo uses to deliver advertising to consumers through desktop and mobile is an untapped asset that could be leveraged by the right buyer to boost its own advertising offerings and make its web properties more attractive to media buyers. Since Yahoo began to explore bids from buyers last week, its stock price has hovered in the $31 range, putting the company's market capitalization at roughly $30.33 billion. Yahoo's investments in Alibaba and Yahoo Japan, which are not for sale, are worth around $33 billion, which means Wall Street investors value Yahoo's core internet business at, er... less than zero.
Still, as of this week, Yahoo's list of suitors includes telecom and cable giants Verizon, Comcast and AT&T, as well as buyout firms Bain Capital, KKR & Co. and TPG, according to Bloomberg and publisher Time Inc.
"If you're smart, you can use Yahoo as a launching point for other advertising [efforts], says Johnny Won, managing partner at mobile advertising consulting firm, Hyperstop. "That's what [CEO] Tim Armstrong did at AOL. That's the thing that could make Yahoo profitable."
Yahoo's buyer will get its hands on a comprehensive suite of ad-related properties. There's BrightRoll, an operation Yahoo acquired in 2014 that helps advertisers connect with a network of publishers and content partners to buy and sell video ads. Another of its properties, Yahoo Gemini, helps advertisers buy and build mobile search ads and sponsored content that blends into a publisher's website. Flurry provides mobile insights and analytics that advertisers use to target their ads in mobile apps based on user behavior and demographics.
As attractive as Yahoo's advertising technologies are to potential media buyers, they aren't being offered alone. Combined with Yahoo's audience of roughly 1 billion unique users per month, Yahoo could provide an immediate boost to any buyer looking to reach a wider audience of people and advertisers.
Purchasing a company for its ad tech isn't unheard of. Verizon employed the strategy with its $4.4 billion purchase of AOL in June 2015. In the sale, the telecom giant acquired everything from web properties such as the Huffington Post to AOL's video and display ad technology, which helps advertisers and media buyers to automate the process of buying ad placements across the desktop, video and mobile. For Verizon, purchasing Yahoo would be a continuation of this approach.
As for the rest of Yahoo's core internet business — its search, mail and news sites — industry analysts are placing its value at roughly a few billion dollars. It's not clear how much the ad tech would be worth without the content properties. But industry watchers say it's unlikely that the content businesses can be easily severed and sold separately.
Yahoo Market Capitalization Over Time | FindTheCompany
"There's a misunderstanding on how you can run a large web portal and separate the ad tech," says Johnny Won. "It doesn't separate itself out. It's one cohesive thing."
For AT&T, acquiring Yahoo could bolster its AdWorks video ad business, which offers media buyers access to audiences on its U-Verse cable service and DIRECTV. As Comcast looks to diversify beyond its cable television assets, picking up some ad tech could also help jump start its efforts.
In the case of Time Inc., the venerable publishing company stands to benefit both from ad tech as well as Yahoo's audience. Following its spinoff from Time Warner in 2014, the magazine publisher has been in transition from print into digital, which is where a Yahoo acquisition could be key. Time would get Yahoo's ad tech and Yahoo's 1 billion monthly users. Additionally, the company could leverage some of Yahoo's stronger properties, including Yahoo Finance, to bring eyeballs to its own set of publications such as Fortune. Simultaneously, Time brands such as Sports Illustrated could lend additional brand power to properties such as Yahoo Sports.
"From Time's standpoint, as well as anyone on the print side, they need digital assets," says Scott Rostan, president of Training The Street, a financial education company. "They need online viewers, eyeballs and page views. Just as newspapers and other historically print publishers, they're struggling to reinvent themselves in the digital age. Yahoo at least gives them a user base that they can work with."
While Time is much smaller than Verizon and AT&T in terms of market capitalization, it may be able to achieve some savings in a Yahoo acquisition, according to Bloomberg. With a transaction known as a reverse Morris trust, Yahoo's core internet properties could merge with Time without a tax penalty.
Yahoo Inc. (YHOO) Stock Price - 10 Years | FindTheCompany
In any case, whatever company acquires Yahoo will need to deal with one big thing when it comes to its core products — there's not much that differentiates them from bigger competitors such as Google.
"[The problem with Yahoo is] for most of what they do, there are alternatives that are just as good," says Jan Dawson, analyst at Jackdaw Research. "If Yahoo were to go away tomorrow, people would be able to switch to other services easily. No one would be upset if they went away."
FOR FREE to continue reading
✔️ Unlock the full content of International Business Times UK for free
offer available for a limited time only
✔️ Easily manage your Newsletters subscriptions and save your favourite articles
✔️ No payment method required
Already have an account?
Log in
© Copyright IBTimes 2023. All rights reserved.