War With North Korea? South Korean Military Orders Full Combat Readiness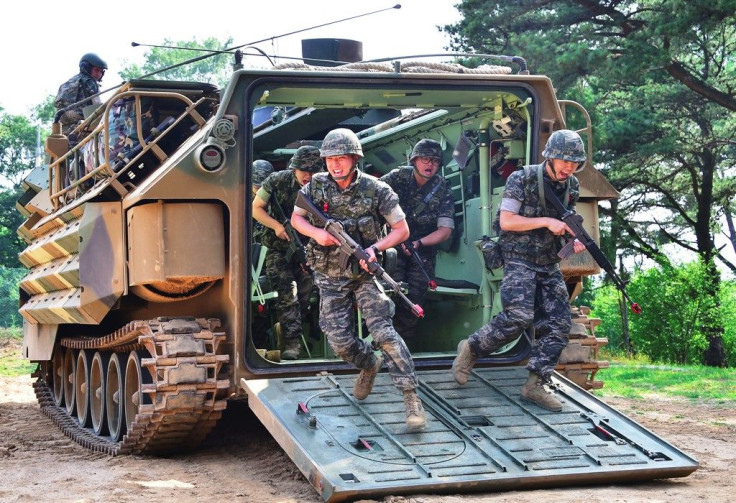 South Korea is reportedly readying itself for the possibility of war with their neighbors to the north.
President Park Geun-hye ordered her military into full combat readiness, according to reports Monday. The order was given to ensure that any North Korean provocation would lead to the "self-destruction" of the regime there, according to the Yonhap News Agency.
"I call on you to maintain a robust posture to retaliate… to make sure that any attempt by the north at engaging in any form of provocations will lead to the self-destruction of the North Korean regime," she said at a meeting with her senior secretaries.
Park's more aggressive tone comes amid escalated tension between the two countries and after a series of overtly aggressive acts from North Korea that have prompted Seoul and the United States to ramp up their surveillance activities in and around the Korean peninsula. The allied countries hope to closely monitor a North Korean submarine base in Sinpo, where Pyongyang's Gorae-class ballistic missile submarine program is held.
South Korea and the United States may have good reason to be concerned that Pyongyang may launch an offensive. The North Korean capital has fired at least four ballistic missiles in July and August, an act that has attracted condemnation from members of the United Nations Security Council, including China, one of the country's closest allies.
North Korea, in a letter the U.N., said the country "has substantial means capable of reducing aggression troops in the U.S. mainland and the operational theater in the Pacific to ashes in a moment," according to Stars and Stripes.
But the most recent wave of missile launches comes following six that were fired in the spring, which prompted the United Nations Security Council to say that the military spectacles were "in flagrant disregard" for a ban on all ballistic missile activity.
© Copyright IBTimes 2022. All rights reserved.
FOLLOW MORE IBT NEWS ON THE BELOW CHANNELS