Warmer Seas Grow Hardships For US Commercial Fishing Industry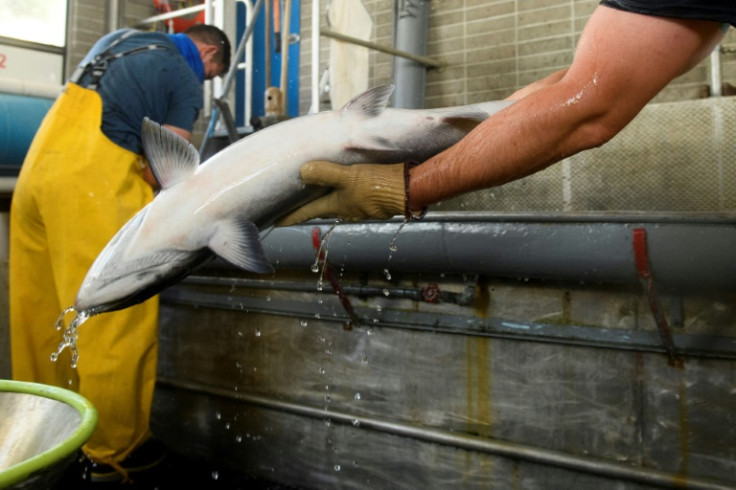 KEY POINTS
Fish are moving to cooler waters and fishermen are traveling further to catch them
Salmon and crab populations are directly threatened by warming waters
Warming seas are creating regulatory and jurisdictional challenges
Climate change is forcing shifts in the American fishing industry as animals, fishermen and policymakers adjust to rising sea temperatures.
The National Oceanic and Atmospheric Association said in a release earlier this week that July was the fourth-consecutive month of record-setting ocean surface temperatures. The month was also the first time the average July temperature was greater than 1.8 degrees Fahrenheit above the long-term average.
"Globally, July 2023 set a record for the highest monthly sea surface temperature anomaly ... of any month in NOAA's climate record," the agency's release said.
Shifting ocean temperatures force changes big and small for U.S. fishery. Some species benefit from warmer ocean temperatures while others suffer. While the catch isn't significantly changing, the livelihoods of the men and women employed by the fishing industry and those in their communities are changing rapidly.
In an interview with International Business Times, Lisa Suatoni, deputy director of the oceans division at the Natural Resource Defense Council, said most sea life is cold blooded. Fish and invertebrates that can will move to water where it is more comfortable.
For fishermen, this means waters that for generations were full of fish are now increasingly barren. Fish are moving into deeper waters or into more northerly latitudes. Fishing boats need to sail further away from their home ports to land their quarry.
In other situations, where animals cannot move to cooler waters, populations valuable as seafood are at risk due to a loss of food sources or waters being too warm for them to live. Warmer waters, Suatoni said, can also give rise to more, potentially toxic algal blooms, low oxygen dead zones and bacterial illnesses that can cause mass die-offs.
Fisheries, Sautoni said, are seeing climate change motivated migration at a rate six to 10 times higher than animals living on land.
"Fisheries are really at the tip of the spear in terms of having to adapt to climate change," Sautoni said.
In an interview, Noah Oppenheim, principal of marine affairs consulting company Homarus Strategies LLC, said the commercial fishing industry is mostly comprised of small, owner-operators who own their boat and sell their catch to processors and packers who get the seafood into supermarkets and restaurants.
The impact on these thousands of independent boats varies greatly depending on the species they catch and the waters they fish. Some are gaining or are unaffected by warming seas while others are devastated.
According to data complied by NOAA in 2018 and published in 2020, shrimp and salmon are the most consumed commercially caught seafoods. Americans ate an average of about 4.6 pounds of shrimp and 2.5 pounds of salmon in 2018. Cumulatively, those catches were worth about $1.1 billion in 2018. Crab, while less consumed, was the most valuable catch being worth about $644.9 million in 2018.
Representatives of the shrimp industry said the shrimp caught in the Gulf of Mexico are actually thriving in warmer water and growing bigger faster. It doesn't matter much, however, as the American shrimper is already getting hammered by cheaper, more plentiful imports of shrimp from Indonesia and other overseas sources.
In an interview, Acy Cooper, president of the Louisiana Shrimp Association and a third-generation shrimper, said the catches out of the Gulf are good but the low prices are killing the industry. In the 1980s, large shrimp sold for $4 per pound but now its selling for about 90 cents.
The reason, he said, is the dumping of cheap shrimp on the American market by exporters. He said this shellfish, according to academic studies, is often farmed and contaminated with antibiotics that are illegal to use in the U.S. Most consumers in the U.S. have no idea they are eating imported shrimp.
"Even here in New Orleans, even with the millions of pounds of shrimp we catch here in this state, they sell imported shrimp because its so cheap," Cooper told IBT. "They are selling the American public a lie."
In an email to IBT, Deborah Long, a spokeswoman for the Southern Shrimp Alliance which represents shrimpers in the Gulf states, said warmer waters are expanding dead zones and pushing shrimp further out to sea forcing shrimpers to spend more time and money to land their catch. Additionally, climate change is making the business more risky as storms increase in intensity and regularity.
Long said warming seas are introducing some shrimp into new waters, but she doesn't think it will impact the shrimping industry.
"The impact of dumped imports, some of which are produced with forced labor or banned antibiotics, deters entry into the existing shrimp industry," Long said in an email. "Mangrove deforestation associated with the expansion and growth of shrimp ponds throughout South Asia, Southeast Asia, and Latin America has reduced carbon sequestration while simultaneously eliminating natural buffers against violent storms associated with warming ocean waters."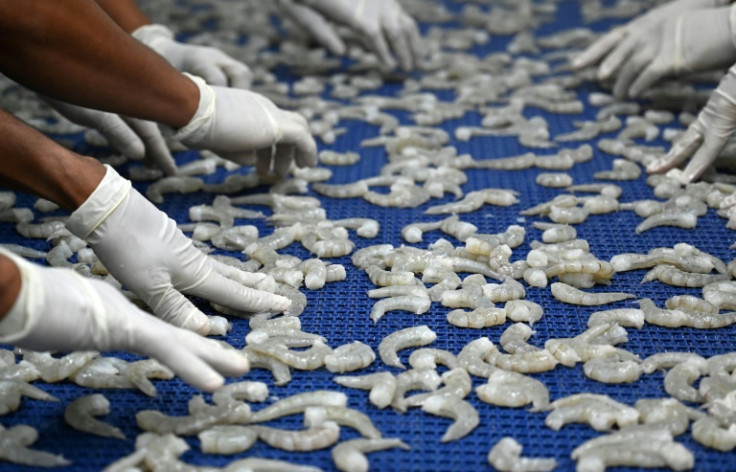 The picture for salmon and crab is much different.
Salmon live their adult lives at sea but breed and hatch in freshwater streams and rivers. With elevated temperatures, and increasing competition for water in the western U.S., salmon fishery is struggling on the West Coast.
In an interview, Scott Artis, executive director of the Golden State Salmon Association, said warming temperatures and dropping, or erratic, river flows are making it nearly impossible for salmon to spawn and are killing the eggs that do survive.
"That ... has a devastating impact on the fishing business as well as the ecosystem," he said.
Artis said the current salmon season is closed in California and future ones are under threat. This previously uncommon occurrence is dragging down the industry, which he said brings ripple effects to all of the businesses that support or count on salmon fishing to survive.
Salmon fishing, Artis said, is a $2 billion industry that supports more than 30,000 jobs on the West Coast. When salmon populations drop or fishing is restricted, coastal communities suffer the most. Native Americans and tribal communities that depend on salmon, he said, are suffering, too.
He said one major impact is salmon tourism. Charter boats aren't getting business and neither are the hotels, restaurants and tackle businesses that cater to tourists.
Oppenheim said Alaskan fishing is seeing a similar story. Alaskan salmon fishermen were expecting a boom year but are seeing disappointing results due to warmer river waters.
Crabbing in the Bearing Sea, home to the Alaskan king crab and the snow crab, is completely off limits this year, Oppenheim said, and will be for the foreseeable future due to population collapse likely caused by warming sea temperatures and a lack of sea ice for many winters. There is also controversy, he said, surrounding whether the use of certain trawling equipment is causing juvenile crab populations to fall.
Fishermen now, Oppenheim said, need to be prepared for an already uncertain business to become even more unpredictable. Sautoni said fishers will need to explore new waters for crab and other seafood species.
As wild catches decline, farm-raised fish will become more common, Sautoni and Oppenheim said. This seafood is less nutritious and doesn't support independent fishermen, Oppenheim said, along with bringing up its own environmental and health issues for the animals.
Moving forward, migrating fish populations will create challenges for local and national policymakers.
Cooper called on the federal government to crack down on shrimp dumping, or force the use of foreign shrimp to be more transparent, to support the American shrimping industry.
Artis said his organization is looking for funds to support the recovery of the California salmon population, but said more will need to be done to improve river flows necessary for a population recovery.
Despite the growing difficulties, American fishery is still productive and profitable. However, Oppenheim said moving fish populations will create new jurisdictional and regulatory challenges that will likely need to be settled in federal courts. Cases headed to the Supreme Court could ultimately redraw the map for fisheries.
Sautoni said the NRDC will continue to advocate for the government to modernize the science surrounding fisheries management. Climate change is proving the data of the past is increasingly irrelevant to the future.
"The federal government should really start investing in modernizing fishery sciences so we can manage our fisheries sustainably in a changing world," Sautoni said. "If they don't do that, there could be greater risk to not only the fisheries and the marine ecosystems but to the communities that depend on wild caught fish."
© Copyright IBTimes 2023. All rights reserved.