Was Madonna 'Drunk' During Her Melbourne Show? Singer Was Seen Drinking From A Bottle On Stage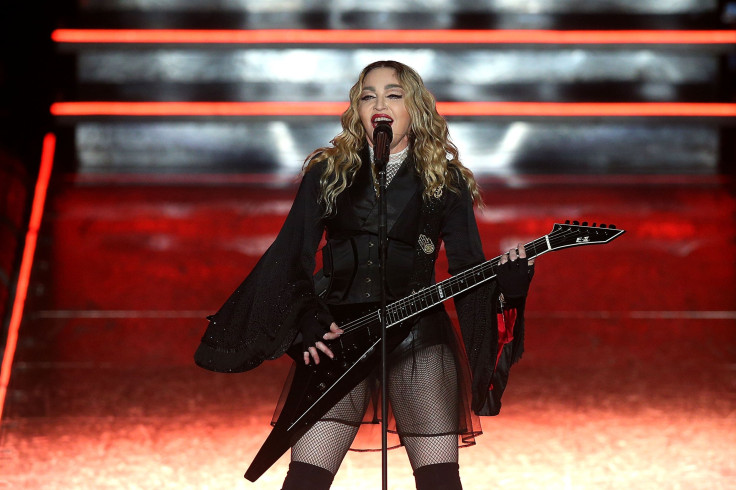 A gossip debunking site denied reports that said Madonna was intoxicated during her performance at the Rod Laver Arena in Melbourne, Australia on Saturday night. Reports of the "Living for Love" singer being drunk at the show began after the 57 year-old was seen drinking from a bottle and a flask on stage, and said "Someone please f--- me."
A video was posted by TMZ that showed the singer drinking on stage and falling off a tricycle Saturday, while several other reports went on to say that Madonna had a meltdown on stage. However, a production insider told Gossip Cop that the reports were "inaccurate." In the video posted by TMZ, Madonna can be seen telling the crowd after drinking from the bottle: "This isn't even real," Gossip Cop reiterated.
Following that, she took out her own flask instead of taking a fan's, as suggested by reports, according to Gossip Cop. "This is Kettle One (vodka)," Madonna said, according to Gossip Cop, instead of tequila, as Daily Mail suggested. The report also criticized other news sources for not mentioning that Madonna's stunts were timed to the circus sound effects that were being played.
Gossip Cop went on to clarify that the bit where Madonna seemed drunk was just a part of the performance and was not real. A production insider also told the debunking website that the singer is all about "attention to detail and perfection," and does not get "drunk" while on stage.
The Australia tour, which began with the Melbourne show Saturday, is the singer's first in 23 years.
© Copyright IBTimes 2023. All rights reserved.