Was Meghan Markle Caught Complaining About Royal Life?
She's the subject of large amounts of criticism because of her attempts to do things her own way and seemingly ignore royal protocols, and while Meghan Markle has not publicly remarked on the constant stories about her, it appears she may now have been caught revealing she has issues with her life as a royal.
A new video has surfaced of the Duchess of Sussex and her husband, Prince Harry, during their meet and greet with the cast of "The Lion King," for the film's European premiere over the weekend which seems to show the former actress commenting on how her life isn't easy as she met with Pharrell Williams.
In the video, which was posted by royal fan @royal_suitor, the Duke and Duchess meet Williams during the lineup and after Prince Harry made a joking comment about the singer's unique Tuxedo Shorts, the former "Voice" star praised the couple for their love story and admitted he was a fan, to which Markle responded with her comment.
"So happy for your union. Love is amazing. It's wonderful. Don't ever take that for granted, but what it means in today's climate, I just wanted to tell you it's so significant for so many of us. Seriously," he said, before adding "It's significant. I cheer you guys on."
"They don't make it easy," Markle replies.
Markle could have been referring to the bevy of criticism she has received lately, as she's been hit with negative reports regarding how much the renovations to her home cost, the decision to keep her son Archie Harrison's christening completely private and reportedly demanding that fans not take photos of her during an appearance at Wimbledon with two friends.
In addition, the Duchess has been criticized for her spending habits when it comes to her wardrobe as well, because of the price tag attached to much of the clothing she wears, none of which usually features English designers.
The trend of criticism is likely to continue based on the outfit she wore for the premiere itself, which featured a mid-length black gown with sheer illusion neckline by Jason Wu (an estimated $4,284), a black satin clutch by Gucci ($2,083) and a pair of embellished sling back black pumps by Aquazzura ($793). She also wore $12,000 earrings, though she had worn them in the past, meaning they were being recycled for the event.
Of course, while the Duchess will likely receive criticism for her comment, she may not have been complaining at all, and some of her other reported interactions with the movie's cast would suggest she feels otherwise. After he met with them, Billy Eichner revealed that the couple was down to earth, stating he and Markle discussed the time they both spent at Northwestern University and even reminisced over which teachers they shared.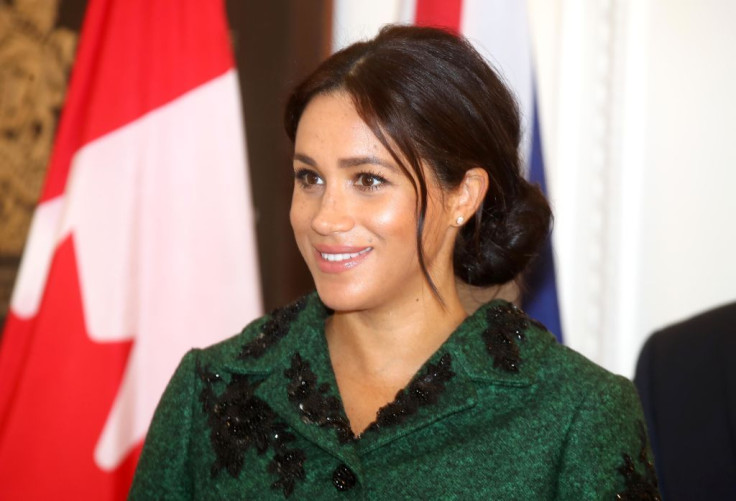 © Copyright IBTimes 2023. All rights reserved.