Are Meghan Markle, Beyoncé Friends? Body Language Expert Suggests They're Not Strangers
Meghan Markle recently met up with Beyoncé at the London premiere of "Lion King."
The two women made headlines shortly after the outing because of the way they clicked with each other. Body language expert Judi James said that Markle and Beyoncé greeted each other as though they were good friends and not strangers.
"It was unusual that they looked as though they had a close existing friendship, using gestures of strong rapport and warmth," she told Daily Mail.
In the photos, the Duchess of Sussex and Beyoncé hugged each other as though they were not strangers. They also talked for a few minutes before the premiere. The Destiny's Child member also kissed Prince Harry's wife on the cheek.
"First, there was the head-tilt of recognition from the Duchess as she moved to Beyoncé in the line-up. The small-signal would show how she was greeting a friend, rather than a stranger… Then Meghan raised her left hand to announce and instigate the cheek-kiss greeting and touched it on Beyoncé's arm," James said.
And during the two women's hug, Beyoncé closed her eyes to once again signal a close friendship between her and Markle. James also noted the fact that Markle and Beyoncé clasped their hands between them that kept the affectionate non-verbal communication going.
The hand-judder gesture that the A-listers used as they held hands signified a strong tie-sign that can be used to signal how much someone has missed an old friend or how excited someone is in meeting another person.
Meanwhile, Markle's husband, Prince Harry, also made headlines following the "Lion King" premiere. The Duke of Sussex was criticized for wearing a ready-made bow tie to the red carpet event.
Etiquette expert William Hanson slammed the new dad on his Twitter account, but some royal fans also came to his defense and said that he looks handsome in whatever he wears.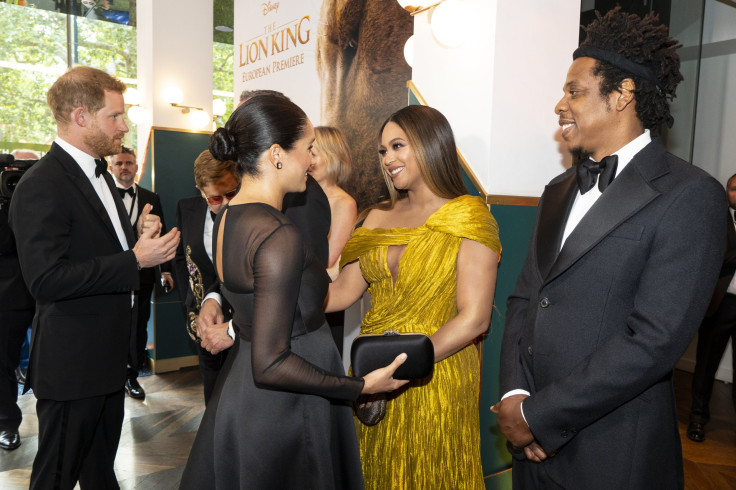 © Copyright IBTimes 2023. All rights reserved.