Was Trump Sick During Iran Speech? Watch Him Slur, Snort, Trail Off Through Address
KEY POINTS
Trump hisses and sniffs his way in a nine minute-long speech on Wednesday
Social media reacted to the speech by saying the President looked lazy and disinterested
He blames Obama for giving money to Iran to build its missiles
President Donald Trump's short speech on Wednesday in the wake of the Iranian missile attacks on Iraq again revealed a problem with elocution long noticed -- and criticized -- that detracts from the effectiveness of his speeches.
Trump's nine minute-long talk again illustrated his seeming awkward relationship with diction, pronunciation and elocution. There also seemed to be a palpable disinterest in him that detracted from the seriousness of the occasion.
Tweets noted Trump's funny, almost lazy, way of speaking -- his slurring of words and his mispronouncing of other words. He also looked bored as he plodded along while reading from a teleprompter.
The White House has steadfastly refused to comment on this issue, which made itself manifest a few months into Trump's presidency. Trump has repeatedly been mocked for his lazy way of speaking and for his gaffes in pronunciation.
Trump's difficulty with public speaking seemed more pronounced than before during his speech Wednesday to the American nation after Iran fired more than a dozen missiles at Iraqi military bases housing U.S. troops that caused no casualties. The distress in the way Trump spoke almost seems like he wasn't feeling very well. Was he sick during the Iran speech?
Keen-eyed Trump watchers watched intently and posted cutting comments on Twitter. Timothy Burke, a video director and founder of Burke Communications, even counted, recorded and posted the number of times Trump sniffed loudly throughout his speech. Burke counted 58 Trump sniffs and snorts in nine minutes, meaning Trump was at this every nine seconds. The recorded audio of Trump's snorts are hurtful to the ears.
Trump's slurring seemed worse than before. He couldn't correctly pronounce "tolerated." He pronounced this word as "toleride." Later on, he mispronounced "accomplishments" as "accompliment shates."
After the 7:54 mark in the video, Trump's seems to be trying to keep his mouth open by widening it repeatedly and sticking his tongue out. Throughout the speech, Trump again had difficulty pronouncing the letter "S" clearly. His efforts to do so sounded like a snake's hiss because of the long, drawn-out pronunciation of the letter "S."
Political pundits said that instead of bringing the American people closer together at this time of national crisis, Trump's speech on the Iran attack again chose to divide the country by falsely claiming the missiles that struck the Iraqi bases were built with money given to Iran by former president Barack Obama, and exaggerating his supposed accomplishments.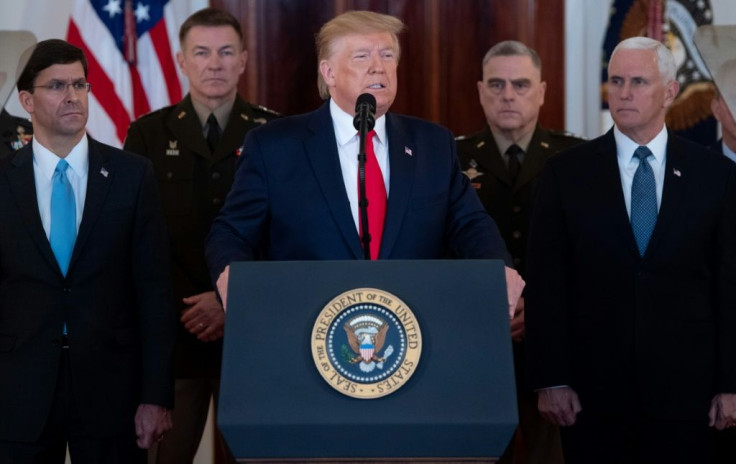 © Copyright IBTimes 2023. All rights reserved.