WATCH: 2,000-Acre Canyon Fire Prompts Evacuations, Lane Closure Near Anaheim-Corona Border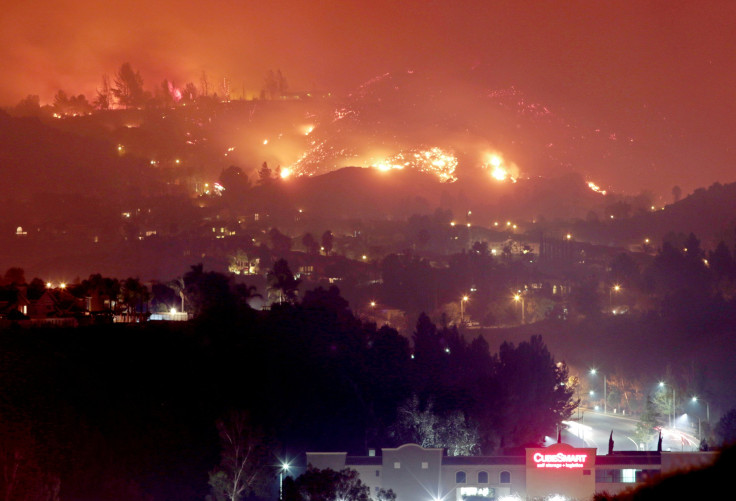 Firefighters battled a fast-moving wildfire that broke out adjacent to the Riverside (91) Freeway near the Anaheim-Corona border in California on Monday afternoon and prompted immediate evacuations as it blackened about 2,000 acres within only eight hours, reports said citing the Orange County Fire Authority.
Dubbed the Canyon Fire, the blaze broke out for unknown reasons around 1 p.m. local time (4 p.m. EDT) alongside the eastbound Riverside Freeway, just west of Green River Road in West Corona. Authorities said it eventually spread at a "moderate'' rate to Coal Canyon Road off the freeway, according to Orange County Fire Authority Capt. Steve Concialdi, NBC Los Angeles reported.
As of 9 p.m. local time (12 a.m. EDT), the Orange County Fire Authority said no casualties were reported and multiple structures were threatened in Corona, CNN reported.
As of 2 a.m. local time (5 a.m. EDT) on Tuesday, approximately 45 evacuees were said to have checked-in at an evacuation shelter, which was set up in the gymnasium at Corona High School. Mandatory evacuations were ordered for over 300 homes, which consisted about 1,000 residents in the Dominguez Ranch area of Corona, Concialdi said.
Evacuations were ordered on Dominguez Ranch Road, San Almada Road, San Ponte Road, San Viscaya Circle, San Sebastian Circle, San Ramon Drive, and a few more areas, according to the Corona Fire Department.
More than 300 firefighters from the Anaheim, Corona, and Los Angeles County fire departments were assisting to contain the fire and save people's homes. Five helicopters with night-vision capabilities and three planes, including a DC-10, also helped in the battling the blaze, Concialdi said.
Crews were setting backfires, in order to keep the wildfire from crossing the freeway. Numerous lanes were closed, leading to even more heavy traffic on the often-congested 91 freeway, along with some other nearby roads on Monday, according to CNN.
Motorists traveling on the freeway took dramatic videos of the flames as they raced up hillsides along the freeway. Numerous photos and videos on social media showed the extent of the fire and how it spread across the area.
Jeff Peterson, a resident of Corona arrived at his residence about two hours after the blaze started in the afternoon. As he reached his home, he said the wind appeared to blow away from his house as he watched it with one of his neighbors. Then the wind changed its direction. "We just looked at each other and said, 'it's time to go get the valuables,'" Peterson said, according to the San Francisco Chronicle.
Wildfires had burned earlier in the canyons around his house, but he had never seen one like this, he said. "I never thought that we'd see it," Peterson said. "It was unreal, watching this happen. The flames made so much noise, they sounded like jet engines."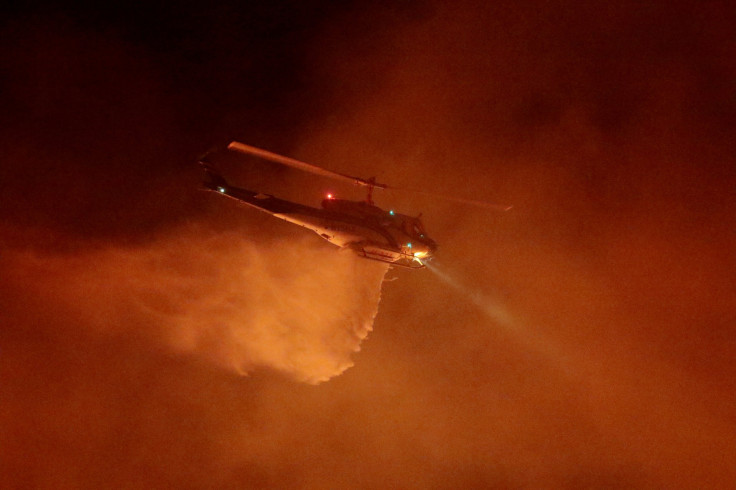 The cause of the fire is under investigation, ABC7 News reported.
© Copyright IBTimes 2023. All rights reserved.